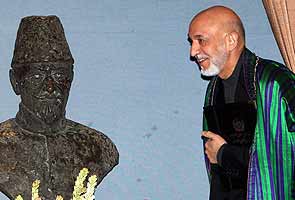 New Delhi:
Afghanistan President Hamid Karzai on Monday likened a former Pakistani law officer, who was sacked for cleaning shoes at the Golden Temple in Amritsar, to a "modern day Maulana Abul Kalam Azad".
Delivering the Maulana Abul Kalam Azad Memorial Lecture, Mr Karzai recalled an elderly school headmaster Ibrahim, who spent a fortnight with him after he was sworn in as President, and came with a message to make efforts to keep Hindus back in Afghanistan.
"I have nothing to ask for myself but a request to hold Hindus back in Afghanistan. He was the Maulana in the form of an aam aadmi (common man)," Me Karzai said at the lecture organised by the Indian Council for Cultural Relations (ICCR).
Similarly, he recalled the instance of the then Deputy Attorney General of Pakistan Muhammad Khurshid who had cleaned the shoes of devotees visiting the Golden Temple in Amritsar.
Mr Khurshid, who had served the devotees in gurdwaras as a form of 'penance' for the crimes committed by the Taliban militia against minorities, was sacked as law officer for reportedly giving Pakistan a 'bad image' by cleaning shoes and sweeping the floor while on an official visit to India.
Mr Karzai said there were hundreds and thousands of examples of the pursuit of the ideals of the Maulana in the current times who continue to inspire everyone.
The Afghanistan President narrated an incident; described in a book authored by Azad, on how the Maulana had approached Mahatma Gandhi to find a solution to the communal riots that had broken out in the aftermath of Independence.
When Gandhi said all Muslims should return to their homes, Azad insisted that the same should be true for the Hindus displaced in the riots, Mr Karzai said.
He said Azad was a man who saw in God and religions a message of unity and not that of division.
Recalling the recent attack on student-activist Malala Yousufzai, Mr Karzai wondered who represented Islam better.
"Are these faceless extremists representatives of Islam? Or is Maulana the representative of Islam? If you take a straw poll, absolute majority will go for the Maulana," he said.
The ICCR gifted Mr Karzai a book of writings of Maulana Azad, compact discs of Indian classical music and a cheque of Rs one lakh.
Karzai announced that the cash component of the oration would be given to a young boy whose father was killed in the suicide bombings in Afghanistan on Eid last month.
He said the young boy, the eldest in the family, was torn between pursuing studies and looking for employment to support his kin.