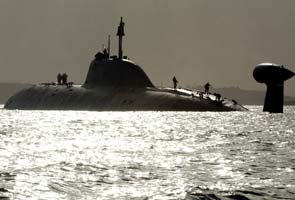 Moscow:
A nuclear submarine leased from Russia is all set to join the Indian Navy in early 2012.
Official sources in New Delhi confirmed today that a Nerpa class nuclear submarine leased for 10 years by the Indian Navy will leave Russian shores by end of the month.
The confirmation of this long-speculated development came hours before Prime Minister Manmohan Singh reached Moscow to attend the 12th bilateral Indo-Russian summit with President Dimitri Medvedev.
Indian Navy officers and sailors have been training on the nuclear submarine for the past several months. This is the second time India is leasing a Russian Nuclear submarine. In the late 1980s the Indian Navy had acquired the necessary skills required to operate a nuclear submarine by training on another Russian submarine christened INS Chakra.
India is building its own nuclear submarine named INS Arihant. This indigenous submarine is however not expected to operational for at least another three years. Nuclear powered submarines require special skill sets to operate in comparison to the conventional diesel-powered submarines.
The strength of India's conventional submarine fleet has progressively come down in the past few years and is believed to be in single digit right bow.
An ambitious programme to indigenously build half a dozen diesel powered submarines with French technology is currently under way at the Public sector Mazgaon Docks Ltd. in Mumbai.
The project has, however, suffered expensive cost and time overruns
While the PM is not likely to sign any defence deal during his two-day visit, defence cooperation will figure high in the talks between the two sides.
Indo-Russian defence ties date back to the 1960s and have stood the test of times despite India's recent attempts to import defence platforms and equipment from the West, especially the US and Israel. About 70 per cent of India's defence hardware requirement is still supplied by Russia.
India is also expected to clinch a deal to acquire 40 more fly-by-wire Sukhoi-30 heavy combat jets from Russia in the coming years.
The 45,000 tonne Aircraft Carrier INS Vikramaditya, formerly Adm Gorshkov is also undergoing a massive refit and modernsation at the Shemash Shipyard in North Russia at a cost of over 2.3 billion dollars. It is expected to join the Indian navy in early 2013.