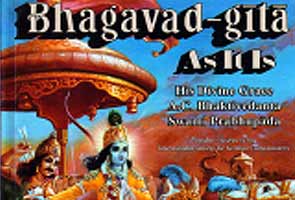 Moscow:
A court in Russia has turned down a petition that asked for a ban on a translated version of Bhagavad Gita. India had described the application as "patently absurd."
The petition was originally filed in June in a court in Tomsk in Siberia and had created a diplomatic stress point for India and Russia.
India's External Affairs Minister SM Krishna met the Russian Ambassador Alexander Kadakin earlier this week to discuss the matter. Today, Mr Krishna welcomed the judgement and thanked the Russian government for its support.
Prosecutors in the Siberian city of Tomsk had argued that the Russian translation of "Bhagavad Gita As It Is" promotes "social discord" and hatred toward non-believers. The text is a combination of the Bhagavad Gita, one of Hinduism's holiest scriptures, and commentary by A C Bhaktivedanta Swami Prabhupada, founder of the International Society for Krishna Consciousness (ISKCON) that is often called the Hare Krishna movement.
The prosecutors had asked the court to include the book on the Federal List of Extremist Materials, which bans more than 1,000 texts including Adolf Hitler's "Mein Kampf."
Yuri Pleshkov, a spokesman for ISKCON in Russia, said the book in question has existed in Russia for 25 years and has never inspired violence or extremist activity.
"On the contrary, this book teaches humane attitude towards all living beings," Pleshkov said.
The trial follows this year's ban on the construction of a Hare Krishna village in Tomsk and is based on an assessment by professors at Tomsk University, who concluded that "Bhagavad Gita As It Is" includes strong language against non-believers and promotes religious hatred and discrimination on the basis of gender, race, nationality and language.
The trial began in June and was scheduled to conclude on December 19, just after Indian Prime Minister Manmohan Singh's two-day visit to Russia. That day protesters gathered outside the Russian consulate in Kolkata, and the speaker of the Lok Sabha adjourned the House for several hours after members began shouting in anger over the proposed ban. Speaking in parliament, Mr Krishna had said the lawsuit was the work of "ignorant and misdirected or motivated individuals."
Indian officials last week appealed to high-level Russian authorities to intervene. The Bhagavad Gita "is not merely a religious text, but one of the defining treatises of Indian thought," said Indian Ambassador to Russia Ajai Malhotra in a statement. "The Bhagavad Gita has circulated freely across the world for centuries and there is not a single instance of it having encouraged extremism."
The Foreign Ministry insisted that the Tomsk court was concerned not with the Gita but with the author's commentary and poor translation in "Bhagavad Gita As It Is."