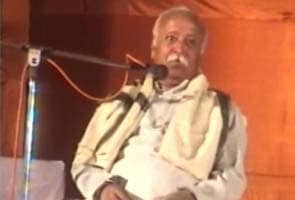 New Delhi:
Rapes are rare in "Bharat" (rural India) but occur frequently in "India", said Mohan Bhagwat, chief of the right-wing RSS or Rashtriya Swayamsevak Sangh (RSS). The organisation is the ideological mentor of the main opposition party, the BJP.
"You go to villages and forests of the country and there will be no such incidents of gang-rape or sex crimes. They are prevalent in some urban belts. The Indian ethos and attitude towards women should be revisited in the context of ancient Indian values," he said.
Here are some reactions to his comment:
Ravi Shankar Prasad, BJP spokesperson:
"The party does not approve of the remarks and dissociates itself from it. The party has asked him to kindly withdraw the remarks."
Ram Madhav, RSS spokesperson:
"The statement of the chief should be taken in perspective. He has condemned the act and said it is utterly wrong. He said it is necessary to hang culprits to death. In Indian culture, we have the tradition of respecting women. If we go away from that tradition such heinous acts come up. His statement should be taken in that respect only."
Digvijaya Singh, senior Congress leader:
"Statement given by Mohan Bhagwatji, that rapes happen in India and not in Bharat, reflects their mentality. There is no difference between India or Bharat. People from Bharat have come to cities and people from cities have come from villages. So such an incident can take place anywhere and to prevent such incidents, strict action must take place."
Mamata Sharma, National Commission for Women:
"Bhagwatji is a senior man. He should not say such things. He should go to the grass roots and see the plight of women."

Rashid Alvi, Congress spokesperson:
"See no one has any right to put a 'Laxman Rekha' for women and if we are following, then what happened to Ravana will happen to people who'll commit such crimes against women."