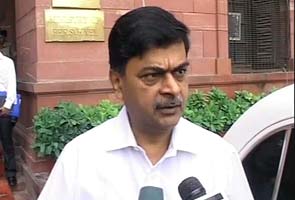 New Delhi:
Home Minister Sushil Kumar Shinde's party distanced itself today from his remarks on "saffron terrorism" but the government backed him, claiming that associates of the right-wing Rashtriya Swayamsewak Sangh or RSS are linked to a series of recent terror attacks in India.
"We have names of at least 10 persons involved in Samjhauta Express, Mecca Masjid and Dargah Sharif blasts who were associated with RSS," Home Secretary RK Singh said. And Foreign Affairs Minister Salman Khurshid said that the Home Minister's allegations were "based on facts." Mr Khurshid added, "Religion should not be associated with terror, it is terror that we are fighting and those are the facts available... We should not be distracted by a phrase, the determination is what that matters
The BJP and its ideological mentor, the RSS, are demanding an apology for remarks on Sunday by the Home Minister, who declared that both groups promote terror at their camps. The fragile relationship between the government and the opposition is poised vertiginously as a result. The BJP has already warned that the controversy will affect its interaction with the government in parliament, where Mr Shinde is Leader of the House in the Lok Sabha.
In an attempt to alleviate the tension, Janardhan Dwivedi, the spokesperson for the Congress, said today, "terror has no religion."
(Read)
The BJP has said Mr Shinde has played into the hands of Pakistan and terror groups there which refuse to accept responsibility for strikes in India. Yesterday, Hafiz Saeed, the mastermind of the 26/11 attacks in Mumbai, validated that concern. He said that Mr Shinde's comments on saffron terrorism expose India's "propaganda" in seeking to blame Pakistan for its problems.
The BJP has been asking for an apology from the Prime Minister and Congress president Sonia Gandhi. The party has also asked for Mr Shinde to be sacked.
Right-wing extremist groups are being investigated for possible involvement in two terror attacks in the communally-sensitive town of Malegaon in Maharashtra in 2006 and 2008 and bomb blasts in 2007 on the Samjhauta Express, a train headed from Delhi to Pakistan, in which nearly 70 people were killed.