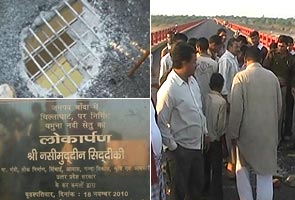 Lucknow:
Barely two weeks ago, it was inaugurated with great fanfare by the Minister for Public Works in UP.
Now, the Rs 640-crore bridge has developed a massive crack - five feet long and 10 inches wide. The bridge in the Banda district is the longest bridge over the river Yamuna in UP.
The state government has set up a committee to investigate the poor construction. Experts say it will take at least a month to repair the damage.
The bridge is totally off-limits for now. Meanwhile, the traffic has been diverted to alternate routes.
This causes considerable embarrassment for Naseemuddin Siddiqui, who is the state's Minister for Public Works. Recently, a government hospital being constructed in the same district collapsed, injuring several labourers.