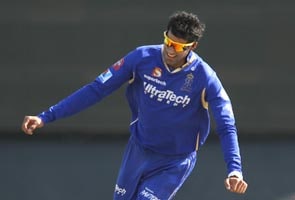 The Delhi Police say they have found Rs 20 lakh in cash, stacked up ironically in a cricket kit, at the Faridabad home of a relative of cricketer Ajit Chandila, who was arrested last week on allegations of
spot-fixing
.
The police claim that Chandila, a member of the Rajasthan Royals IPL team till he was suspended after his arrest, pointed them to the money during his interrogation.
Chandila, his teammates, Test cricketer
S Sreesanth
and Ankeet Chavan, and the many bookies now in custody have been questioned for a fifth straight day today. Their voice samples have been collected to be matched to those in thousands of phone conversations intercepted by the police during their investigations into spot fixing during the ongoing Indian Premier League or IPL tournament.
Spot-fixing is an arrangement between a player and bookies to manipulate an over or a wicket in a match and allow betting on it. Such betting is illegal in India.
More than 20 people have been arrested from different cities in the massive scandal. Among them are the three Rajasthan Royals cricketers now suspended and an ex-Royals player Amit Singh, who the police allege was a talent-spotter for bookies.
The custody of the players and the bookies will end tomorrow. Sources say the Delhi Police will seek further custody.
A stunned Board of Control for Cricket in India or BCCI announced yesterday that it will conduct an internal inquiry into the scandal. An anti-corruption official will now be sent with the team to England for the Champions Trophy next month.
The Enforcement Directorate has joined investigations to find out if there has been any money-laundering. The investigations of the special cell of the Delhi Police, which is handling the operations has said it suspects a link between bookies running spot-fixing and the Mumbai underworld, perhaps even Dawood Ibrahim's brother Anees Ibrahim and close associate Chhotta Shakeel.
A number of phone calls intercepted, the police said, were from numbers in Dubai and Pakistan.