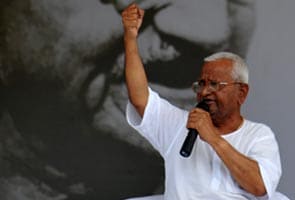 Mumbai:
To beat Mumbai's notorious rush hour traffic, activist Anna Hazare today will be escorted by motorcyclists to the venue of his three-day fast, the MMRDA Grounds.
Anna, who is 74, will begin his hunger strike at 11 am, which is when Parliament will begin debating a Lokpal Bill that has got a big fat F from Anna and his team of activists, who have devoted this year to championing the urgent need for a strong anti-corruption law.
A press release from India Against Corruption, whose members flank Anna's movement, said "Proud Royal Enfield Riders and others are all set to take their tough machines out to roar for Anna Hazare as they escort Annaji from Gandhi Statue, Juhu-Santacruz to his Fasting Venue, Bandra Kurla Complex."
(Read: Full Press release by Royal Enfield)
Anna travelled by road from his home town of Ralegan Siddhi near Pune to Mumbai late on Monday evening. His team has urged people to skip colleges and offices to attend his protest camp in Mumbai. A parallel sit-in is being organised at Delhi's Ramlila Maidan. "Although it's a working day, we are confident in offering a strong, overwhelming reception to our 74-year-old veteran, who is leaving no stone unturned for the betterment of our very own future," said the IAC press release.
In Mumbai, Kiran Bedi, a member of Anna's core group, referred to his frail health ahead of his hunger strike, "Even a three -day fast for Anna is not safe. So therefore no indefinite fast?" she said. After reaching Mumbai, Anna's health deteriorated, but he plans to go ahead with his fat, key aide Manish Sisodia said.
In August, Anna's 12-day hunger strike left the government winded. He ended his fast after Parliament assured him that it would consider his three guiding principles for the Lokpal Bill. That vision, Team Anna says, has been ignored by the Bill that was introduced in Parliament last week.
Ms Bedi reiterated the demand for opposition parties to reject the Bill in its current avatar and fight for major amendments to the bill - like the fact that the CBI, the country's premier investigating agency, must be liberated from government supervision to ensure it is not subjected to political influence when studying complaints against government servants.