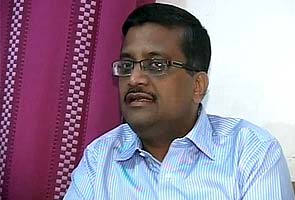 Gurgaon:
Senior IAS officer Ashok Khemka has alleged in a report that Robert Vadra, businessman and Congress president Sonia Gandhi's son-in-law, "falsified documents" to execute a series of "sham transactions" for the sale of 3.5 acres of land in Gurgaon to real estate giant DLF for Rs. 58 crore.
Mr Khemka - who was controversially transferred by the Haryana government in October last year, three days after he cancelled the mutation of Mr Vadra's deal with DLF - handed the 100-page report to the state government in May this year, details of which have become public now.
The senior bureaucrat alleges in his report that Mr Vadra's company, Sky Light Hospitality Private Limited, did not make any payment through a Corporation Bank cheque of Rs. 7.5 crore as mentioned in the registration certificate for the land in Shikohpur village of Gurgaon, adjacent to Delhi.
According to the Press Trust of India, the IAS officer has alleged that Haryana's Department of Town and Country Planning (DTCP) "ignored rules and regulations to allow crony capitalists operating as middlemen to flourish and appropriate market premium of a license," adding, ""The DTCP aided Vadra in making these sham transactions."
Mr Khemka has alleged that Mr Vadra, who owned property in different parts of Haryana, received sweetheart deals from the Congress government, in power in the state since 2004. As Inspector General, Registrations in Haryana, the official had ordered an inquiry last year to determine if Mr Vadra had been sold land at discounted prices.
The timing is embarrassing for the Congress, which has been battling various scandals just months before it makes an attempt to win a third straight term at the centre in the 2014 general elections.
Mr Khemka alleges that unauthorised officials had signed off on the mutation of the land from Mr Vadra to DLF; he has raised questions about why the government appeared to have allegedly bent the rules for Mr Vadra, processing his Change of Land Use (CLU) application at lightning speed and licensing him to build a commercial housing project on his plot of 3.5 acres. That license granted to Mr Vadra added such dramatic value that DLF paid Rs. 58 crore for the land.
A government committee in March this year concluded that Mr Vadra's deal with DLF in 2008 was fair and legal. In reply to the conclusions drawn by the committee, Mr Khemka's report allegedly says that the Haryana government had shown "undue haste" in issuing the commercial colony licence to Mr Vadra.
"The Congress will soon have to open a factory of clean chits the way it's going," BJP spokesperson Meenakshi Lekhi said to NDTV today.