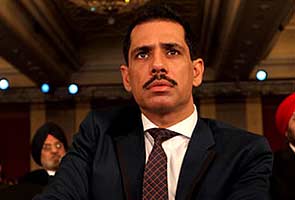 Chandigarh:
Entrepreneur Robert Vadra's sale of 3.5 acres in Haryana to real estate giant DLF for 58 crores was fair and he did not receive illicit discounts from the Congress which has governed the state since 2004, a government committee has concluded. It has indicted Ashok Khemka, who was the top man in the state's Land Records department when he questioned whether Mr Vadra had received sweetheart deals.
Mr Vadra's mother-in-law, Congress president Sonia Gandhi, is often described as the most powerful person in the country.
The committee, consisting of three bureaucrats, has said that Mr Vadra paid Collector rates - or the base price set by the government - for the land he bought.
In October, Mr Khemka cancelled Mr Vadra's deal with DLF. The bureaucrats say Mr Khemka's decision was incorrect, partly because he did not allow Mr Vadra or DLF to present their version of events.
Their report will be studied by the government. Mr Khemka says he will challenge its conclusions.
Mr Khemka was removed from his office three days after he ordered an enquiry to determine if Mr Vadra, who owned property in different parts of the state, had been sold land at large discounts.
In the deal with DLF, Mr Khemka alleged that unauthorised officials had signed off on the mutation of the land from Mr Vadra to the real estate major; he also raised questions about why the government appeared to have bent the rules for Mr Vadra, processing his Change of land use documents at lightning speed and licensing him to build a commercial housing project on his plot of 3.5 acres. That licence, granted just a month after Mr Vadra bought the land for 7 crores, added such dramatic value that just three months later, DLF paid 58 crores for the plot.