New Delhi:
Highlights
Defence Minister counters acerbic Rahul Gandhi address at Congress meet
Says Gandhi's attack on Amit Shah, PM Modi devoid of substance
Says Congress can't lecture on judicial independence, media freedom
Senior BJP leader and Union Minister Nirmala Sitharaman today brushed off the scathing series of accusations made by Congress chief
Rahul Gandhi
, calling it the "rhetoric of loser, devoid of substance" and following it up with a point-by-point rebuttal.
Minutes after
Mr Gandhi's address
at the 84th plenary session of the Congress, in which he took on
Prime Minister Narendra Modi
, the BJP and its chief Amit Shah, the defence minister addressed the media. Accusing the Mr Gandhi of insulting the Hindus with his reference to religion and his party of being anti-technology for its insistence on a return to ballot paper, she left the most crucial points for the last.
Referring to Mr Gandhi's remarks on party chief Amit Shah, Ms Sitharaman said: "It is astonishing that the Congress president chooses to name the president of BJP and says he is a murder accused. He has been cleared by a court. The charge does not hold, even though the charge was a complete conspiracy against him. It was a conspiracy based on fraud and you continue to say this".
The accusation, she added, was being made by someone who shares his surname with Mahatma Gandhi, and is out on bail in the National Herald case.
Mr Gandhi and his mother Sonia Gandhi are facing allegations that they used their leadership of the Congress to misuse party funds for personal profit. They are accused of setting up a shell company called Young Indians to illegally gain control of properties worth $300 million that belonged to Associated Journals, which published the National Herald, a newspaper founded by Jawaharlal Nehru.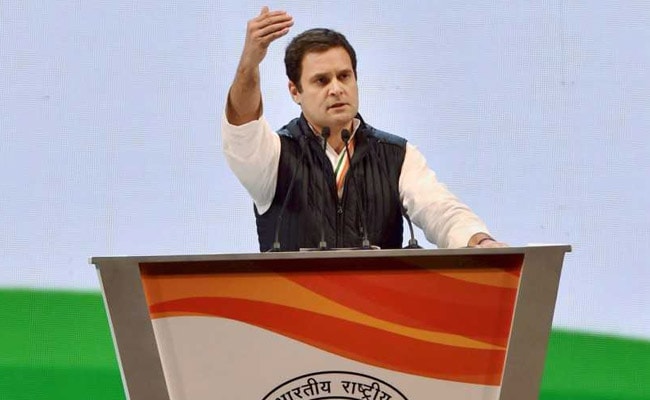 Without naming Mr Shah, Mr Gandhi had launched an attack on him in his 53-minute speech. "They will accept a man accused of murder as the president of BJP, but the people will never accept the same in the Congress party," he had said. Mr Shah was named in an alleged fake encounter case but was discharged by a court, which said there was not enough evidence to bring him to trial.
On Mr Gandhi's accusations that the government was curbing the independence of the media and judiciary, Ms Sitharaman reminded the Congress leader of the Emergency imposed his grandmother, former Prime Minister Indira Gandhi, and the controversial defamation bill, seen as an instrument to curb free speech, planned by the government led by his father, Rajiv Gandhi.
"Since when has the Congress become protector of judiciary? Do I have to remind how Indira Gandhi treat the judiciary when one verdict went against them? Rajeev Gandhi in 1988 almost brought the bill and during that phase, how many cases were filed against the media? And their son and grandson is talking about press freedom," Ms Sitharaman said.
Get Breaking news, live coverage, and Latest News from India and around the world on NDTV.com. Catch all the Live TV action on NDTV 24x7 and NDTV India. Like us on Facebook or follow us on Twitter and Instagram for latest news and live news updates.