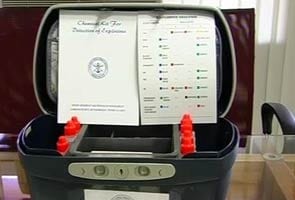 Washington DC, US:
In a first, the Defense Research and Development Organization (DRDO) of India has globally commercialized a home-grown technology.
A portable explosive detection kit, made in a lab in Pune, has been sold by the DRDO to an American company. Till three years ago, this was completely unthinkable as the DRDO was on the technology denial list of America. The reversal of roles is hence a giant leap for India's defense research. (
Watch: DRDO chief on why their new technology will benefit US
)
The kit is small, handy, cheap and very accurate. It can detect minute quantities of explosives like TNT and RDX within minutes. Even untrained people can know the nature of the explosive with the help of the kit and a simple chemical test.
The feat has brought Indian defence research chief, Dr Avinash Chander, on a rare visit to the US. Dr Chander last visited the US 17 years ago. All these years, he was not welcome here as he worked on India's potent ballistic missile series - the Agni. But now, there is a new found bonhomie.
NDTV's science editor Pallav Bagla caught up with Dr Avinash Chander, the chief of DRDO, outside the White House in Washington DC. "This is an important development. Till recently, the DRDO was under sanctions and now in a first of its kind beakthrough, DRDO technology is being sold globally, especially in the US. This home-grown Indian technology will now be used to save lives in America," he said.
Indian security forces have been using the kit for some time. Now, the US Homeland Security apparatus will also benefit from this nifty Indian development.