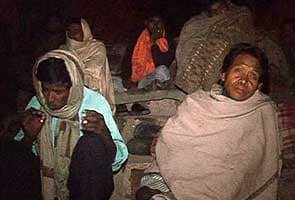 New Delhi:
As the cold wave intensified across north India, Delhiites woke up to yet another chilly morning on Monday with a minimum temperature of 3.4 degrees Celsius, five notches below average.
The Met office has forecast a clear and sunny day but warned of a cold evening.
Sunday morning was the coldest of the season so far as the mercury plunged to 2.9 degrees C, five notches below normal. It was the coldest Christmas in 10 years, the Met office said. The city recorded a maximum of 20.3 degrees.
With extreme weather claiming three more lives, the country-wide death toll this winter has gone up to 131. The fresh deaths were reported from Uttar Pradesh, which has so far accounted for 91 fatalities.
Hisar in Haryana and Amritsar in Punjab recorded minimum temperatures of 0 deg C and 0.6 deg C respectively, both readings being a few notches below normal.
Narnaul recorded a low of 0.5 degree Celsius, down by five degrees, while the minimum at Ambala settled at 3 degree Celsius, down by four notches, the local weather office said.
In Kashmir Valley, Srinagar recorded a minimum temperature of minus 4.8 degrees, which was the coldest night in the city so far this season.
The tourist resort of Gulmarg recorded a low of minus 9.8 degree Celsius, while in the remote Leh district of Ladakh region, the minimum temperature dropped by a degree to settle at minus 16.2 degree Celsius, the MeT Department said.
In the desert state of Rajasthan, Churu continued to remain the coldest place registering a minimum of minus 1.4 degree Celsius, followed by Pilani at 0.3 degrees.
(With agency inputs)