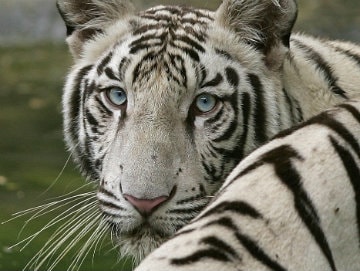 New Delhi:
The recent incident of a man being killed by a white tiger at the Delhi zoo highlighted the need to restructure and revamp Indian zoological parks, while raising questions over the security of animals and visitors.
While some experts say it's time private organisations were given a role in their management, others question the very concept of zoological parks.
They have even said that India's zoos are among the worst in the world and the government should stop managing them and instead outsource them to private companies and experts.
"Zoological parks need to be shut down. Animals are not supposed to be kept in zoos, which is why they are called wild animals. Zoos should only operate for conservation and rehabilitation purposes, and not for people to throw stones and tease them," Animal Welfare Board of India vice chairman S. Chinny Krishna told IANS.
"You can never make zoos a safe place in India. Keeping animals in zoos is like keeping them in a golden cage and giving them food," he added.
Prachi Mehta, wildlife scientist and executive director (Research) at the Wildlife Research and Conservation Society, said it is high time that India followed international standards to design its 192 zoos that are regulated by the Central Zoo Authority, an autonomous statutory body under the Wildlife (Protection) Act, under the environment ministry.
"There are some excellent zoos outside India such as the Beijing zoo, San Diego zoo and Micke Grove (California) zoo that serve as excellent educational and research platforms and create awareness about animals. Our zoos can be designed in such ways," Mehta told IANS.
She said the focus on the revamping of zoos in India has come into sharp focus after the Sep 23 incident in which a seven-year-old white tiger mauled and killed a 20-year-old man, who had fallen in its enclosure.
Soon after the incident, which went viral on the social media, zoo authorities pointed out that the guard posted at the tiger's enclosure tried to "stop" the victim and said he crossed three levels of barricading and "jumped" into the moat when the guard was not looking.
Following the incident, the Central Zoo Authority issued new directives to zoological parks and has even asked for a compliance report within a month.
"In a circular dated Sep 24, the authority issued a few directives which included guidelines like all zoos should have a quick response team to handle such emergency situations; have a public address system at the entry gate; have warning signs and also folded ropes and ladders at carnivore enclosures," B.K. Gupta, evaluation and monitoring officer, CZA, told IANS.
Gupta added that another guideline included printing of "do's and dont's" on entry tickets.
But when asked whether the Indian zoos need revamping, zoo officials said all zoological parks are well maintained and steps are taken to make them safe and secure for the visitors and also enough attention is given to the condition of the animals.
Prerna Bindra, a former member of the National Board for Wildlife, said while the stated objective of zoos is conservation breeding, education and awareness, "rare are the zoos which fulfil these objectives.
"Most zoos exist to provide Sunday entertainment to the public and animals are kept in abysmal conditions. How can watching miserable captive animals pacing to and fro in cages inspire or teach people about wild animals in their natural habitat," Bindra questioned, while speaking to IANS.
Agreed Mehta, who said most of Indian zoos are like "public gardens."
"The zoos are maintained for creating awareness about animals and fostering concern and love for them. In Western countries, zoos also serve as research stations. But we are maintaining zoos like public gardens where people tease animals, irritate them and throw food and stones at them. We need to revamp them," Mehta told IANS.
"There should be educational material, knowledgeable volunteers and animal-friendly activities and films that will prevent such incidents," she added.
Echoing similar sentiments, Bindra said that as most zoos are largely "under-equipped" and face a "manpower crunch", partnering with relevant NGOs or institutions would be a good idea.
"This is especially for tasks such as interface with public, education, monitoring visitors and perhaps even helping keepers in their tasks - as is done in some zoos abroad," Bindra added.