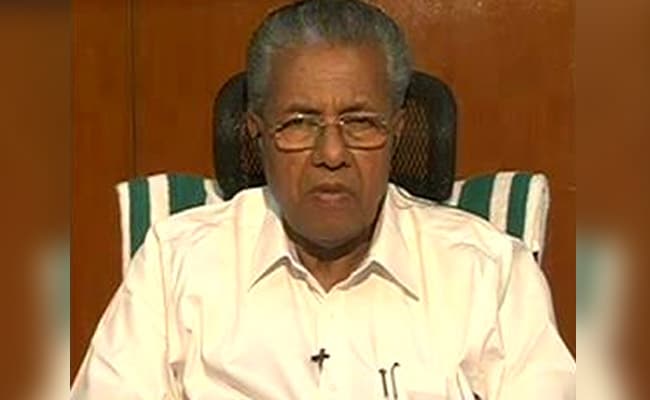 Thiruvananthapuram:
Kerala Chief Minister Pinarayi Vijayan on Friday hoped state BJP chief Kummanam Rajasekheran will motivate his party's National President Amit Shah for a creative debate on Kerala aiming for its further development.
In his Facebook post, Mr Vijayan said they had wholeheartedly accepted Mr Shah's debate challenge on development and also cordially invited him for the same.
"Who is back-pedalling from the debate now and why?" said Vijayan.
It was Amit Shah who first challenged Mr Vijayan, saying they were prepared to take on the CPM on issues of development and ideology.
Mr Shah had thrown the challenge from a public meeting here on the concluding day of the state-wide yatra undertaken by Rajasekheran, aiming to highlight the alleged violence by CPM workers on the BJP and Rashtriya Swyamsevak Sangh (RSS) cadres.
In the course of 15-day yatra, top Bharatiya Janata Party leaders, including chief ministers and central ministers, took part and slammed the CPM in general and Mr Vijayan in particular for all the violence perpetrated against their cadres.
Mr Vijayan said it was the state leadership of the BJP that brought their national leaders and made them raise sleazy and factually incorrect allegations against the Kerala government.
"(But) Perhaps the imported CMs and central ministers, who were misled about the law and order, peace and development of Kerala, got convinced about the reality... They all know that BJP-ruled states deal with such situations with prohibitory orders and internet shutdowns."
But in Kerala, such a provocative yatra was completed peacefully, without facing any such restrictive measures, which reflected the high levels of democratic demeanour of the people and the government of Kerala, said Mr Vijayan.
"The approach of Left Democratic Front (LDF) is different," the Chief Minister underlined.
"We strive hard to meet our needs and to ensure our rights, at the same time, attempt to maintain a cordial relation with the Centre. Is it such amiable environments that cause annoyance to the BJP, and...appointments with the Prime Minister are denied to the official delegations from Kerala," said Mr Vijayan.
Mr Vijayan ended his post by stating what Kerala was facing today was "not the challenge to fortify the progress we have achieved so far, but to transcend it to the next dimension".
"Even a primary comparison with any BJP-ruled state would elucidate this fact. It is on the basis of objective facts and figures that every Keralite claims the number one position of Kerala.
"I hope Rajasekheran would exhibit the goodwill to accept this reality and motivate Shah for a creative debate...for Kerala's further development," said Mr Vijayan.