New Delhi:
Shambhu Lal Raigar,
who hacked a man to death
in Rajasthan, burnt his body and shared the video on social media, was glorified in a tableau during a Ram Navami procession in Jodhpur last weekend.
The procession was organized on Sunday by the Vishwa Hindu Parishad (VHP), an affiliate of the Rashtriya Swayamsevak Sangh (RSS), which is the ideological mentor of the ruling BJP.
33-year-old Raigar, who is in jail, had a tableau to himself, alongside those of Lord Ram and Sita. A man who masqueraded as him sat imperiously on a throne, holding a pick-axe much like the one Raigar used to kill Mohammad Afrazul, and wearing the same red shirt and white trousers from the murder video filmed in Rajasamand. On the ground before him, another man played Raigar's victim.
Usually,
Ram Navami
processions showcase pageants of Hindu gods and goddesses.
Raigar's killing video generated shock and disgust across the country. He had first claimed he had killed the man because he wanted to protect a woman from "love jihad" - the term used by right wing groups for a relationship between a Hindu woman and a Muslim man - and he was threatened. It later emerged that
Raigar's case was that of an affair gone wrong
. Mohammad Afrazul happened to be the friend of a man who had eloped with the young woman Raigar loved.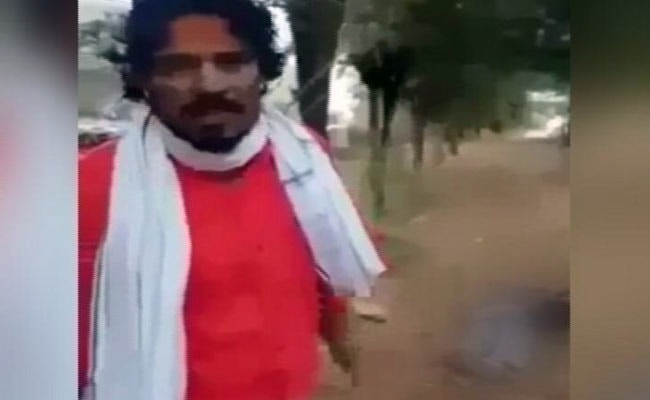 But Raigar
was projected as a hero by right wing groups
on WhatsApp and social media. Days after his arrest for murder and communal hate, more than 200 people were arrested for rioting and arson after they defied restrictions to take out marches in Udaipur in solidarity.
Recently, he surfaced in videos from jail, in which he claimed that he was in danger.
The Jodhpur procession once again highlighted support for the depraved killer, especially among hardliners who project him as a mascot of their campaign against "love jihad".
"It is not a crime to carry a sword in the city," said a VHP leader.