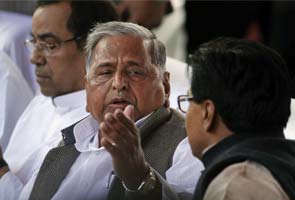 Lucknow:
A meeting of 11 Vishwa Hindu Parishad or VHP leaders with Uttar Pradesh Chief Minister Akhilesh Yadav and his father and Samajwadi Party chief Mulayam Singh Yadav has raised eyebrows. Mr Yadav's arch rival, Bahujan Samaj Party chief Mayawati has accused him of cosying up to the BJP.
"Every time elections are near, Mulayam Singh and the BJP and its affiliates, come together and plan political strategy," Ms Mayawati said. The VHP and BJP share an ideological parent in the Rashtriya Swayamsevak Sangh or RSS.
Both the VHP and Mulayam Singh Yadav have explained that the meeting on Saturday was held on the request of the VHP to seek administrative support for a yatra of seers or saints that it plans through UP beginning August 25.
But during that yatra the VHP plans to resurrect the demand for the construction of a Ram temple at the disputed Babri-Masjid-Ramjanmabhoomi site in Ayodhya.
VHP leaders said they also asked Mr Yadav to back a resolution in parliament for the construction of a Ram temple. They want the resolution passed in the monsoon session, and have threatened an agitation from mid-October if that does not happen. The Monsoon Session ends this week.
The VHP said Mr Yadav offered it no assurance.
Mulayam Singh said today, "Whatever the Supreme Court decides on the temple will be acceptable. There are no differences between Hindus and Muslims." Mr Yadav's party counts UP's 18 per cent Muslim vote as a primary support base. He claims he reluctantly supports the UPA government at the Centre to keep "communal forces" out of power.
With a cautious revival of the Hindutva agenda, the Sangh Parivar is attempting to consolidate the Hindu vote base for the general elections due by May next year. The VHP will make a big push for the Ram temple agenda while Narendra Modi and the BJP will talk about development and inclusive politics.
Mr Modi told his partymen yesterday that the BJP should explore ways to attract minority votes. "If 20-25 per cent minority voters backed me in Gujarat, why can't this be replicated across the country," he asked at a brainstorming session.