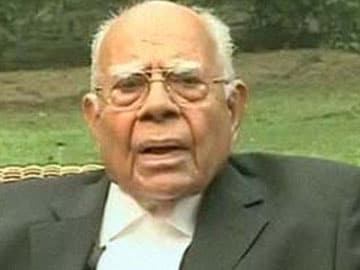 New Delhi:
Some of the BJP's most senior leaders including LK Advani, Narendra Modi and former prime minister Atal Behari Vajpayee have been asked to respond to a defamation suit by famous lawyer Ram Jethmalani, who has challenged his expulsion from the party last year.
The Delhi High Court has said that all 11 members of the BJP's top decision-making body, its parliamentary board, must send their responses by January 30.
The 80-year-old, who is a member of parliament, has demanded 50 lakhs as compensation from nine of the parliamentary board members - he has excluded Mr Vajpayee and Mr Modi, who is the BJP's prime ministerial candidate. He has also asked the court to declare that his expulsion was arbitrary and invalid.
(Ram Jethmalani expelled from BJP for anti-party remarks, he calls order 'stupid')
Mr Jethmalani has alleged that he was penalized by senior party members who were upset by his open support for Mr Modi to be the BJP's prime ministerial candidate.
He was expelled for six years after he clashed with the party on a series of fronts. He accused the BJP of going soft on the ruling coalition on corruption. He also openly campaigned against a second term as president for Nitin Gadkari, who was engulfed last year in a series of corruption charges linked to his vast business empire, Purti.
The allegations against Mr Gadkari led to Rajnath Singh taking over as BJP president in January.
Get Breaking news, live coverage, and Latest News from India and around the world on NDTV.com. Catch all the Live TV action on NDTV 24x7 and NDTV India. Like us on Facebook or follow us on Twitter and Instagram for latest news and live news updates.