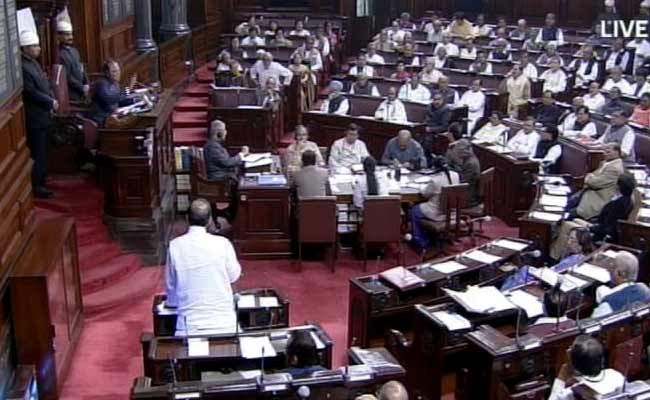 New Delhi:
In a rare legislative action, a private member's Bill seeking to protect the rights of transgenders was passed unanimously by voice vote in Rajya Sabha today.
The "Rights of Transgender Persons Bill, 2014", moved by DMK's Tiruchi Siva was passed after leader of the House and Finance Minister Arun Jaitley said it would not be proper if the House is divided on this issue as all feel in favour of the rights of transgenders.
The Bill was passed with the full strength of the treasury benches, though several opposition members were not present at the time. The Bill was passed by voice vote in the presence of 19 Union Ministers, including eight Cabinet Ministers. Former Prime Minister Manmohan Singh was also present.
Mr Siva later shook hands with the senior members in the House, thanking them for supporting him in the bill's passage.
Mr Jaitley spoke after Mr Siva insisted on division, rejecting the assurance given by Social Justice and Empowerment Minister Thawar Chand Gehlot that government will come out with a comprehensive bill in this regard.
Mr Gehlot said many issues were yet to be resolved among various Ministries on the issue and clarification has been sought from the Supreme Court on some other issues.
Mr Siva, however, did not yield and insisted on voting, saying the issue was important and needed to be taken up urgently to protect the rights of transgenders.
While Congress members, despite their poor attendance, prompted Mr Siva to go ahead for seeking passage of the bill, at least three Ministers and the Chair requested Mr Siva to take the government's assurance and not insist for voting, going against the tradition of the House.
Moving the bill for passage, Mr Siva said 29 nations and leading democracies in the world including US, UK, Canada, France, Australia, Italy and Singapore had legislations protecting rights of transgenders.
With the passage of the bill, Rajya Sabha created history today as the last private member's bill was passed in 1970.
"We enjoy human rights without discrimination. Without protection of human rights, there can be no democracy or justification of democracy. We cannot afford to be intolerant. Violence based on gender identity still continues.
"There are 4.5 lakh transgenders in the country, but reports say there are 20 to 25 lakh such people without having any recognition. They are discriminated against," Mr Siva said.
Urging members to vote in favour of the bill, he said the entire country was watching Rajya Sabha today in the hope that something big is happening for them.
"The world is watching India closely. This will create conditions for an equal society," he said, adding that the bill also seeks to create a national commission for transgenders besides providing them reservation in jobs and educational institutions.
Earlier, the Minister said he agreed with the sentiment of the DMK member, but there were certain difficulties and various Ministries needed to be consulted and more coordination was required.
Reservation was not granted to even SCs and STs in primary educational institutions, besides jobs in private sector and neither was there separate employment department set up for anyone. A review petition on the issue was also pending before the Supreme Court, Mr Gehlot said.
"Government is positive. We agree emotionally on this. We are trying to bring a comprehensive law. We will work towards bringing a comprehensive law," he said, requesting the member to withdraw the bill.
"There are some problems in passing a bill like this. It will not be proper. We are ideologically inclined positively and a comprehensive bill will be brought soon," he said.
But Mr Siva said "it is high time. I think there is no other way but to move the Bill...It will be a good gentle gesture of this government to support this bill."
Supporting him, lawmaker Renuka Choudhary said this was a golden opportunity and the government should "do it. The window is open. It will be in your favour".
Deputy Chairman PJ Kurien, who was in the chair, also asked Mr Siva repeatedly if he intended to withdraw the bill as per tradition, but the DMK member refused to budge.
"There are some technical problems in your bill. Are you withdrawing?" he asked.
Mr Siva said while Indian Parliament has so far passed 14 private members' bills, the British Parliament had passed 17 such legislations and the Canadian Parliament passed 229 of them.
While a large number of private members' bills are taken up by the House, almost all of them are finally withdrawn after a debate and assurances by the government to take up the issues raised through them.
Earlier, Minister of State for Parliamentary Affairs Mukhtar Abbas Naqvi also said "the Minister has honestly given an assurance and I feel Siva should take the bill back and agree."
Mr Jaitley said this was an "important issue" and "I don't think the House should be divided on this issue. The Minister (Gehlot) has said he is working on this and will bring some official policy and bill in this regard."
Mr Jaitley said even if the House approved this, it does not become a law. "It will be like a resolution."
"One option Siva has is if he agrees to the suggestions of the Minister. The other option is the House by voice vote can echo the sentiment expressed by Siva," he said.