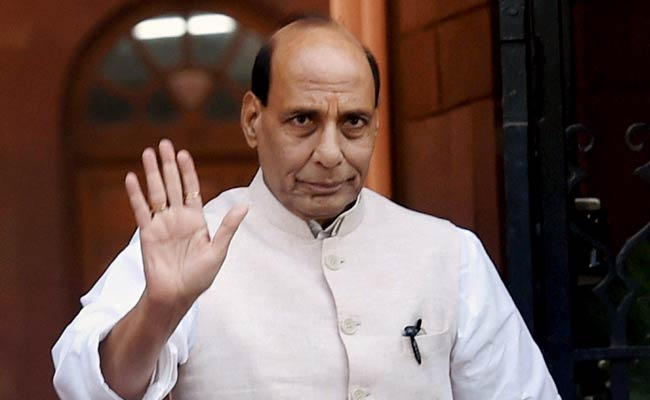 Union minister Rajnath Singh spoke to Bengal Chief Minister Mamata Banerjee and other opposition leaders today regarding the Presidential elections that are due next month. Sources said the government will try to form consensus with the opposition and no names were discussed at this stage.
The other leaders Mr Singh has spoken to include Congress's Mallikarjun Kharge, BJD chief Naveen Patnaik and Samajwadi Party's Akhilesh Yadav. Mr Singh also spoke to one ally -- Bihar Chief Minister Nitish Kumar -- whose relationship with the BJP has hit a rough patch since the 2020 assembly election.
These are preliminary discussions where options are being explored, sources said. Later, there will be a meeting of the NDA where the names of the candidates will be discussed.
The BJP Parliamentary Board will also meet and the candidate's name will be finalised and announced before Prime Minister Narendra Modi's visit to Germany starting on June 26.
Mr Singh's discussion comes amid the opposition's deliberations over the Presidential elections.
At the behest of Ms Banerjee, a group of opposition leaders met in Delhi today to discuss the issue. Five key parties, however, were missing from the meet, where veteran political leader Sharad Pawar turned down a proposal to the opposition candidate for the election.
With no further names forthcoming, Ms Banerjee proposed the Gopal Krishna Gandhi -- former Governor and the UPA's Vice-Presidential Candidate in 2017 -- and National Conference chief Farooq Abdullah.
Some more time is required for deliberations, Ms Banerjee told reporters after the meeting, which had ended in chaos over an unexpected resolution against Prime Minister Narendra Modi.
The presidential elections will take place on July 18 and the results will be declared on July 21. June 29 is the last date for nominations. President Ram Nath Kovind's term ends on July 24.
In 2017, the government's efforts to field a consensus candidate fell through and the opposition had fielded former Lok Sabha Speaker Meira Kumar. But Mr Kovind, then Governor of Bihar, beat her in the election with 65.65 per cent of the total votes which totalled 702,044 electoral college votes.