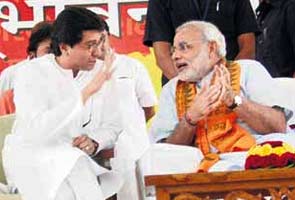 Mumbai:
If there is any take away from the buzz surrounding Gujarat Chief Minister Narendra Modi's
sadbhavna
fast, political analysts say it is that rift begets rift, as the recent statements made by Shiv Sena's Bal Thackeray reveal.
Two days after two of his party MPs, Anant Gite and Bharatkumar Raut, were in Ahmedabad to support Modi's three-day fast on Saturday, Thackeray Senior criticised Modi in a strongly-worded editorial in the party mouthpiece
Saamna
.
Sources from the BJP said that Raj Thackeray's presence in Ahmedabad, who vouched his full support to Mr Modi for the post of the PM, might have something to do with Mr Thackeray's rancour.
Contrary to the party's stand supporting Mr Modi, the Sena chief castigated the Gujarat Chief Minister for his efforts to project a secular image of himself by accepting chants by Muslim clerics at the fasting venue.
In the editorial, Mr Thackeray reminded Mr Modi that he had come to power on the strength of the Hindu vote bank and should not give them the "poison of secularism, with an eye on PM-ship in Delhi".
The editorial coincides with his estranged kin and MNS chief Raj Thackeray's tour to Ahmedabad to convey his camaraderie with Mr Modi. He told reporters in Ahmedabad that it would be good if Mr Modi becomes Prime Minister. He then pledged the MNS' support for Mr Modi's candidature to the post.
"This statement may create severe heartburn among the Sena leaders," said a BJP leader about the MNS Chief's comments.
Criticising Khadse
Bal Thackeray also lashed out at Leader of the Opposition in State Assembly, Eknath Khadse, for painting a dismal picture of Maharashtra by praising Gujarat. During his Ahmedabad tour, Mr Khadse hd said, "While there is light in Gujarat, there is darkness in Maharashtra."
The Sena supremo found it unacceptable. "No leader from Maharashtra should try to defame the state by criticising it in other states," he said.
This is not the first time that the Sena mouthpiece has taken an unkindly view of the Gujarat Chief Minister.
When Mr Modi was appointed as the campaign chief for Maharashtra during the 2009 Assembly Elections, Saamna had written that he could never fill the void left by the late Pramod Mahajan.
"The angst may have something to do with Mr Modi rising to the stature of Hindu messiah, the epithet that was once reserved for Thackeray senior," the senior BJP leader observed.
The recent overtures by Raj to court the BJP have become a raging issue between the Sena and BJP, casting gloom over the two-decade old alliance.
Other leaders from the state who made it a point to visit Ahmedabad to support Mr Modi include, senior BJP leader Gopinath Munde, Leader of Opposition in State Council Pandurang Phundkar, party MLA Prakash Mehta, ex-MP Kirit Somaiya, Mahila Morcha chief Smriti Irani, Mumbai BJP chief Raj Purohit, Punam Mahajan and RPI leader Ramdas Athawale.