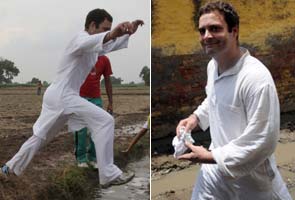 Alawalpur:
Marching along a canal, several farmers escorting him. Seated on a charpai, a school child nestled in his lap. A farmer offering him an unraveled turban to wipe off the sweat.
The Rahul Gandhi Roadshow is being carefully chronicled -rarely does the media have this much access to the Congress General Secretary. The photo-opportunities abound. But can this man change who Uttar Pradesh will vote for next year?
At a pit stop, he tells a group of farmers, "Your land has been stolen. By who? Do you know?" Farmers murmur uncomfortably.
His mission for now is to walk 130 kilometres, through around 25 villages and arrive on Saturday in Aligarh for a maha-panchayat. The agenda for the journey, undertaken in 35 degree heat, is land acquisition - and how Mayawati and her government are exploiting farmers. The money they're paid for their land is a red-faced fraction of what both the government and the real estate developers they work with will take home.
The Congress has emphasized that the Gandhi tour is not a political one - after all, senior leader Digvijaya Singh said, there are no other party works traveling with him. The spin doctors may need to come up with a more clever line.
Noble intentions aside, this is very much the launch pad for Mr Gandhi's campaign to wrest UP from Mayawati. The party's - and his own - prestige is at stake.
And even farmers who host him find that it's not easy to meet him. Kaliram's house in Rampur Bangar is where Mr Gandhi spent Tuesday night. The Special Protection Guard (SPG took over the house. Mr Gandhi slept on the first floor after eating a simple meal of dal-sabzi cooked on the ground floor by Kaliram's wife, Usha Devi. Hosting Mr Gandhi has some bonuses, she discovers. A generator appears outside her home, so she can cook her meal late at night.
This morning, Mr Gandhi resumed his yatra at 6:30 am. By 7 pm, he had covered five villages. Seven hours in the afternoon were spent resting at a farmer's home. Then it was back to the road.
Along the way, Mr Gandhi may have noticed that the stress on land acquisition wasn't revving up the crowds to gather in large numbers or protest forcefully. So he added some other topics to the mix. Like the recent attacks against women, and the worrying series of rapes of young girls.