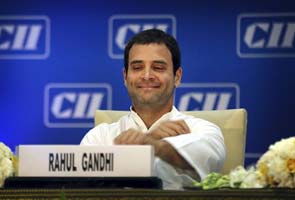 New Delhi:
By 1:30 pm today, "Girish" was trending on Twitter.
He had been introduced in absentia this morning to India's top industrialists in a televised speech by Congress vice-president
Rahul Gandhi
, who referred to Girish, originally from eastern Uttar Pradesh, as an example of the "optimism with which thousands of youth struggle everyday" in India.
That spirit, Mr Gandhi said, defines the energy and power of India.
(
Highlights of Rahul Gandhi's speech
) | (
Watch full speech
)
Mr Gandhi said a few years ago, he boarded a train from Gorakphur in Uttar Pradesh to Mumbai with his team. "I spent a large time walking along the train talking to people moving from the dust of Gorakhpur to Mumbai over 36 hours," he said to the gathering of the Confederation of Indian Industry (CII).
Girish, who painted skyscrapers in Mumbai, was among those Mr Gandhi encountered. When they reached Mumbai, he invited the politician to visit him.
Mr Gandhi said it was 4 am, the streets of Mumbai were puddled by the monsoon, as he accompanied Girish home. There were six people, all migrants, sleeping in a tiny room. Girish, Mr Gandhi said, insisted on buying tea for the politician and his team. "That is the story of this country," Mr Gandhi said, "people struggling with optimism."
Girish is being referred to as Mr Gandhi's new "Kalavati." In a rare speech in Parliament in 2008, Mr Gandhi had shared the story of a widow from Vidarbha in Maharashtra, who he had visited. Her husband, a farmer, had committed suicide, unable to pay off his debts.
She later accused Mr Gandhi of failing to assist her family. Her son-in-law and daughter killed themselves, unable to handle their poverty.