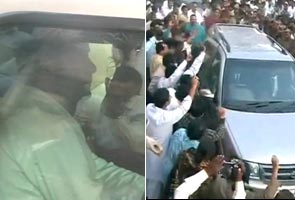 Kanpur:
Congress leader Rahul Gandhi today visited the Hallet Hospital here to meet the 16-year-old dalit girl maimed for resisting a rape attempt and promised all assistance to her, even as the main accused in the case was arrested in Fatehpur.
Assuring her family members that she would get justice, Gandhi gave her parents his office phone number and asked them to contact him whenever they faced any problem.
The Congress general secretary went to the Intensive Care Unit, where the girl is undergoing treatment after her nose, ear and a part of hand were slashed by three youths when she thwarted their attempt to outrage her modesty in Bindaki area in Fatehpur district.
Gandhi first enquired about her condition from her attending doctors and then spoke to her parents outside the
ICU.
Later, the girl's father Badlu Ram told reporters that Gandhi heard the details of the incident and asked him if she was facing any problem in her treatment.
Gandhi asked accompanying UP Congress chief Rita Bahuguna Joshi to keep a watch on her medicare.
The teenager suffered a dozen deep gashes on her face, head and hand and was rushed to the Fatehpur district hospital from where she was referred to Hallet Hospital here in a serious condition.
Outside the hospital, Congress workers raised slogans against the Mayawati government and clashed with police, who
used lathis to chase them away. Six persons, including three journalists, were injured.
The youths - Shivom, Hari Shanker and Pawan - had forcibly dragged her on Saturday when she had gone out for some work in a field and tried to rape her.
Main accused Shivom (25) was arrested today in Fatehpur and the axe used in the incident recovered, Superintendent of Police Ram Bharose told reporters.
This is the second arrest in the case after Harishanker was nabbed yesterday. The third accused is still absconding.
Meanwhile, Chief Minister Mayawati is reaching here tomorrow and is likely to meet the girl.
The Chief Minister was earlier scheduled to arrive here on February 13 to review the progress of development works.
Kanpur District Magistrate Mukesh Meshram said Mayawati has changed her programme and will come tomorrow. But, he said he had no information as to whether she will meet the girl.
Meanwhile, a sobbing Badlu Ram told PTI that no girl should be allowed to undergo the pain suffered by his daughter
and demanded stringent punishment to the guilty so that it could act as a deterrent for other wrong-doers in future.
The girl's mother could not control her tears when she said, "My humble prayer is my only daughter should be saved."