New Delhi:
Congress president-elect Rahul Gandhi will take over as party chief today
, in place of his mother Sonia Gandhi, a generational shift at the top of India's oldest party that could have trickle-down effects too. Mr Gandhi, who has often been seen as a reluctant politician,
was named the chief-to-be
on Monday after
no one else from his party challenged
him in the internal election.
Celebrations began early this morning, party workers were seen dancing, distributing sweets outside the Congress headquarter in Delhi.
Mr Gandhi's promotion, however, comes at a tumultuous time. The Gujarat election, where the final phase of voting was held this week, was the first time that
Rahul Gandhi led the party's campaign
from the front. Though his party billed it as a sign of an overhauled public image, nearly all exit polls have predicted the Congress
losing to the BJP by a large margin
. The Congress is also widely expected to lose Himachal Pradesh. Results for both the state elections will be declared on Monday.
Mr Gandhi's elevation caps years of speculation about his new role. It also comes nearly two months after Sonia Gandhi told NDTV that a promotion for
her son was due soon
. But Rahul Gandhi, who spent much of the last several weeks in Gujarat, reportedly decided to put off his promotion because he did not want the party leaders to get distracted from the immediate challenge in the crucial state.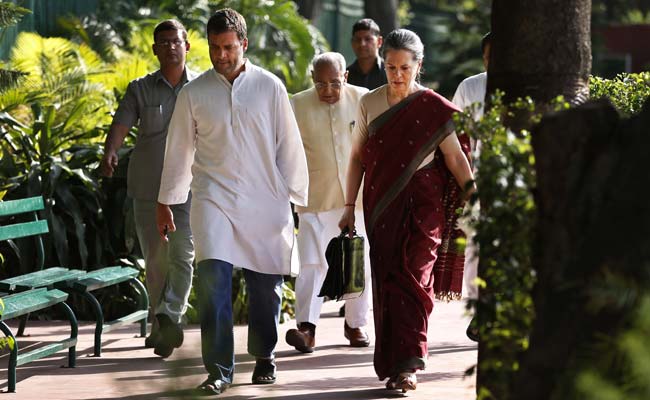 But formalities apart, he is, however, already believed to have taken charge. It was Rahul Gandhi who had
rebuked veteran leader Mani Shankar Aiyar
when he scored a goal against his own team with his "
neech aadmi
" comment against Prime Minister Narendra Modi and later decided to suspend the Gandhi family loyalist.
Rahul Gandhi was elevated as the party's vice president in January 2013 and has since then, operated as the party's number 2. Mrs Gandhi, 70, the party's longest-serving chief, has been keeping unwell in recent years and had scaled back her public engagements, pushing to the fore Rahul Gandhi.
Mrs Gandhi is expected to continue
to head the Congress Parliamentary Party
. For most parts, Rahul Gandhi would have a free hand. Asked what role she would play after her son's elevation, Mrs Gandhi said: "
My role is to retire
". Mrs Gandhi told NDTV Rahul Gandhi had been helping decide vital party issues for years.
Sources have told NDTV that the generational shift would trickle down to other posts as Mr Gandhi gets down to forming his team over the next few months but he was likely to draw on the experience of the party's "old guard" in advisory roles.