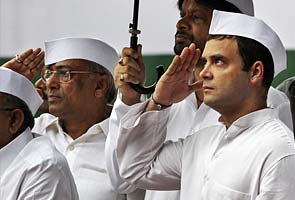 New Delhi:
After attending a flag-hoisting ceremony at party headquarters, Rahul Gandhi met Dr Manmohan Singh for an hour to discuss the Anna Hazare crisis. Mr Hazare is planning to begin his indefinite fast in the national capital tomorrow.
The flag-hoisting ceremony at the party headquarters was the first public appearance by Rahul Gandhi after returning from the US on Sunday.
Mr Gandhi had accompanied his mother and party president Sonia Gandhi to the US where she underwent a surgery and is currently recuperating at a hospital there.
The young General Secretary asked Motilal Vohra, the senior most Congress leader to unfurl the national flag, putting to rest any speculation on who will stand in for the Congress President at the ceremony.
Prime Minister Manmohan Singh also attended the ceremony along with other senior leaders of the party.
After the ceremony, Mr Gandhi met with Dr Singh. The meeting lasted for over an hour and was also attended by Finance Minister Pranab Mukherjee, Information and Broadcasting Minister Ambika Soni and party spokesperson Janardan Dwivedi.
There was no official word on the meeting and Congress leaders who attended the meeting remained tight-lipped. Sources say he informed his party colleagues that Mrs Gandhi was 'doing much better'.
Sources have told NDTV that Mr Gandhi took stock of the political situation in the country, especially Anna Hazare's threat to go on fast from tomorrow over the Jan Lokpal bill. The Congress will avoid personal attacks on Anna Hazare. It will, however, respond strongly if Mr Hazare and his team directly attacks the Congress, say sources.
Mr Gandhi is part of the four-member committee appointed by his mother, Sonia Gandhi, to look into the party's affairs in her absence. The other members of the committee include AK Antony, Ahmed Patel and Janardan Dwivedi.