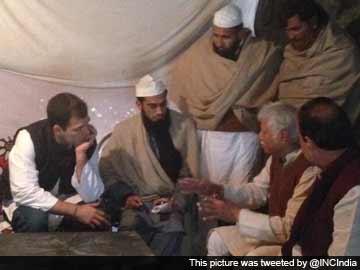 New Delhi:
In what seemed like a perfect balancing act, Congress vice president Rahul Gandhi's early morning visit on Sunday to the camps of riot victims of Muzzafarnagar coincided with a Jat delegation calling on party president Sonia Gandhi to thank her for UPA's decision to recommended reservation for Jats.
Rahul Gandhi's visit was kept under wraps for security concerns. But the Congress was quick to share details of what Mr Gandhi saw in these camps. The party released photographs of his interaction, videos shot on phone of his aides and press note.
Over the past few weeks, there have been several reports of people, especially children, dying in the relief camps unable to protect themselves from the cold wave. "Conditions in the camps are terrible. Children are dying, the government should help. Two things should be done: Camp conditions need to be worked on and mediation between the two communities," said Mr Gandhi after visiting the camp, adding, "Wherever I went, people wanted peace and blamed communal forces." (
Watch: Akhilesh should focus more on Muzaffarnagar relief camps, says Rahul Gandhi
)
The Congress No 2 blamed vested interests for the communal flare up but didn't name anyone or any political party.
The UP government reacted cautiously to Mr Gandhi's visit, refusing to get into a blame game. Chief Minister Akhilesh Yadav pointed out his government wants the riot affected to return home.
"If Congress leaders or their associates have any suggestions to improve the camps, we welcome it. Samajwadi Party want the people to return home," Mr Yadav said. (
Read
)
Mr Gandhi's Muzzafarnagar visit seems to have been carefully timed. The visit comes just two days after the Centre decided to write to the Backward Commission to grant the Jats Other Backward Class (OBC) status at the central level. (
Read: Jat leaders thank Sonia Gandhi
)
An OBC status will allow Jats to enjoy reservation in central government jobs and educational institutions.
And through a well publicised thanksgiving exercise, the Congress hoped to reap political benefit. For the record, the Congress denied it.
"No it's not a balancing act. We have been working on it for past two years," said Deepender Hooda, Congress member of Parliament from Rohtak, Haryana.
The reservation is not a done deal. But the crowds outside the Congress president's residence clearly indicated the party wants to make some political capital. "We will put our might for the Congress party," claimed H S Sangwan, who led the Congress Committee demanding reservation for Jats.