New Delhi:
Highlights
Poll strategist Kishor hired by Congress to craft Uttar Pradesh strategy
Congress can gain if Priyanka or Rahul lead from front, suggested Kishor
Priyanka Gandhi has reportedly refused Kishor's suggestion
Election strategist
Prashant Kishor
is said to favour projecting Congress vice president Rahul Gandhi as chief minister for Uttar Pradesh, where assembly polls will be held next year.
Mr Kishor - engaged by the Congress to help wrench it out of the poor fourth position it has struggled at for many years - reportedly made a presentation to Mr Gandhi recently after meetings with party leaders in the state.
He has concluded that the Congress can be pulled out of the shambles it is in only if one of the Gandhi siblings, Priyanka or Rahul Gandhi, leads from the front. Rahul Gandhi, 45, is said to be Mr Kishor's first choice for chief ministerial candidate and his younger sister Priyanka, the second.
Sources said Congress president Sonia Gandhi has ruled out Rahul or Priyanka contesting the Uttar Pradesh elections. While Priyanka Gandhi has kept away from electoral politics and only campaigns for her mother and brother, both members of Parliament from Uttar Pradesh, Rahul Gandhi is seen as the party's Prime Ministerial candidate.
Some senior Congress leaders are, however, said to see merit in the suggestion of Mr Kishor, who has
earlier constructed winning election strategies
for Prime Minister Narendra Modi and Bihar's
Nitish Kumar
.
The leaders agree that projecting Mr Gandhi as the face of the party in Uttar Pradesh could propel the Congress to a winning position in the must-win state. Parliamentary elections will only be held in 2019.
Mr Gandhi has earlier said he wanted to run for Uttar Pradesh chief minister in 2012, but was not allowed to do so by the party leadership.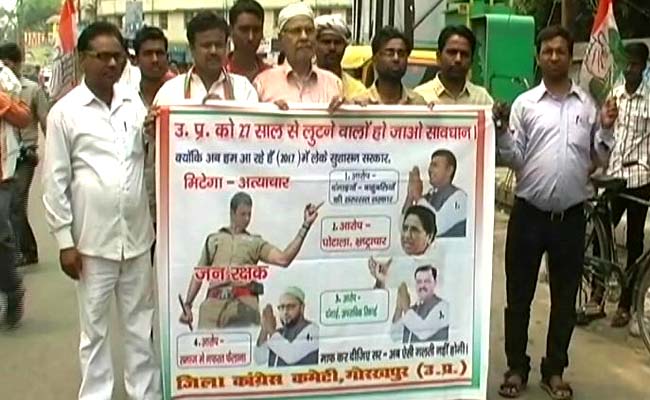 His assessment in Uttar Pradesh finds resonance in a far corner of the state, Gorakhpur, where the party's district-level unit has issued large posters featuring Rahul Gandhi as Singham, the fearless cop from the Bollywood film of the same name, played by actor Ajay Devgn.
The poster makes various allegations against rival leaders like Akhilesh Yadav of the Samajwadi Party, current Uttar Pradesh chief minister, the BSP's Mayawati and others and shows them asking to be "forgiven."