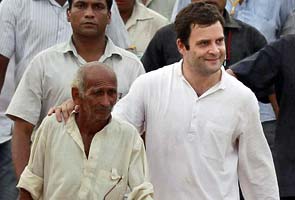 Alawalpur/Aligarh:
The administration may have been using tough words against Congress General Secretary Rahul Gandhi's
padyatra
calling it a "clear violation" of the prohibitory orders, Mr Gandhi remains undeterred. He continued his footmarch in Uttar Pradesh for the second day today, heading towards Aligarh, where a Congress-backed
kisan mahapanchayat
is planned on Saturday. (
Read: After night at farmer's home, Rahul's yatra continues
)
Heavy police force has been deployed near Siarol village on Aligarh-Gautam Budh Nagar border, even as senior police officers insisted it was purely a precautionary measure.
"Heavy police force has been deployed near Siarol village on the Aligarh-Gautam Buddha Nagar border from where Congress leader Rahul Gandhi is barely at a short distance," official sources said in Aligarh.
In Aligarh, SSP Satyendra Vir Singh said, "Section 144 of the CrPC is in force all over the district since June 12 and in this background Rahul Gandhi's
padyatra
will be a clear violation."
The SSP, however, clarified that if there is no apprehension of law and order problem; the authorities might choose not to prevent Rahul's entry into the district.
Mr Gandhi resumed his
padyatra
at 6.20 am today from Rampur Bangar village and interacted with villagers while criss-crossing several villages on the way. This had Chief Minister Mayawati firmly on his cross-hairs over the issue of forced land acquisition from farmers.
After walking around 25 km, Rahul had a halt at Rampur Bangar in Gautam Budh Nagar district yesterday where he spent the night at the house of a former village head.
Dal, roti
and vegetable with no chillies - this simple fare was his dinner at his host Vijaypal Sharma's house. (
Read: Rahul Gandhi eats dal-roti at night halt at farmer's house
)
Asserting that the Mayawati government should understand its responsibilities, Rahul told villagers in Alawalpur that farmers, whose land is being acquired, come to know of it only when the process is already over.
"This is not being said by one person, but thousands. People were killed in Bhatta-Parsaul, but it was said that nothing happened. People were killed in Tappal. Your voice must be heard against the wrong doing," he said in Alawalpur village where he camped for several hours.
Addressing a
chaupal
in another village, Rahul said the magnitude in which land was being acquired in UP was not happening anywhere else in the country. (
Read: Supreme Court to UP Govt - Sinister campaign to grab land
)
"It's okay if the land is being acquired for road. Roads should be constructed and development must take place, but here land is being taken for colony," he said.
Aligarh SSP Singh said, "The Congress party has secured permission for its
kisan mahapanchayat
in Aligarh on July 9. They have, however, not sought any permission for the
kisan padyatra
which is currently on in certain other districts."
Singh said the district authorities have communicated to the Special Protection Group (SPG) that Rahul's
padyatra
here would, therefore, be considered as a violation of Section 144 of the CrPC.
"All our options are open in this matter and we are monitoring the situation carefully," he said.
For the second consecutive day, ruling BSP attacked Rahul terming his
padyatra
as merely a political drama in view of the coming assembly elections.
"The love for farmers is nothing but a stunt and political drama being enacted by Congrerss yuvraj before the coming assembly elections ", a statement released by the BSP said. (
Read: Mayawati counters Rahul Gandhi with new land policy
)