Highlights
Mr Jadhav's faced verbal assault as they waited for car after the meeting
India said they were forced to take off mangalsutra, bindi before meet
Wife and mother were allowed to see Mr Jadhav behind glass partition
New Delhi:
The mother and wife of Kulbhushan Jadhav were harassed and subjected to outrageous questions by Pakistani journalists after their
short meeting in Islamabad with the former navy officer
sentenced to death in Pakistan.
"
Aapke patidev ne hazaron begunah Pakistaniyo ke khoon se Holi kheli ispar kya kahengi
? (your husband killed thousands of innocent Pakistanis, what do you have to say about that?)'" was a question shouted at Kulbhushan Jadhav's wife Chetankul Jadhav.
"
Aapke kya jazbaat hain apne qaatil bete se milne ke baad
? (How do you feel after meeting your killer son?)" - a journalist hurled at Mr Jadhav's mother Avanti Jadhav.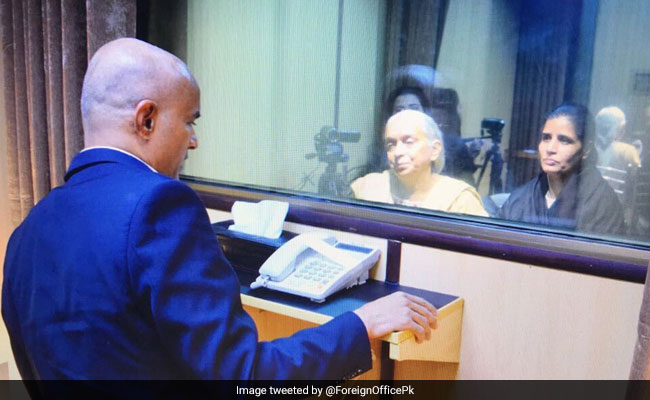 The two women faced the verbal assault as they were forced to wait for their car after emerging from the Pakistan foreign office after their 45-minute meeting with Mr Jadhav across a glass screen. They are seen in footage turning away from the Pakistani media and going inside. India's Deputy High Commissioner JP Singh is seen throwing up his hands in exasperation.
A furious India has denounced Pakistan over the treatment of the Jadhav family.
New Delhi has alleged that the women were
forced to change and take off their mangalsutra, bindi and bangles
. The government also accused the Pakistanis of refusing to return the shoes of Chetankul Yadav after she was forced to turn them over to security.
Foreign ministry spokesman Raveesh Kumar said: "The Pakistani press was allowed on multiple occasions to approach family members closely, harass and hector them and hurl false and loaded accusations about (Shri) Jadhav."
Mr Jadhav's family handled the meeting "with great courage and fortitude", said Mr Kumar in a statement, accusing Pakistan of using the meeting to try and "bolster a false and unsubstantiated narrative of Mr Jadhav's alleged activities."
The government said the cultural and religious sensibilities of family members were disregarded and they were prevented from talking in their native Marathi language and "repeatedly interrupted while doing so".
Mr Jadhav, a former officer in the Indian navy, was arrested in March 2016 by Pakistan and held guilty by a military court of planning espionage and sabotage - charges that India has strongly refuted. His wife and mother were allowed to see him behind a glass partition on Monday, eight months after he was sentenced to death. Pakistan projected it as a "grand gesture" but India said its choreographed propaganda had been exposed.
Pakistan's foreign ministry has rejected the accusations.
The World Court halted Mr Jadhav's execution after India argued that he was denied diplomatic assistance during his trial.