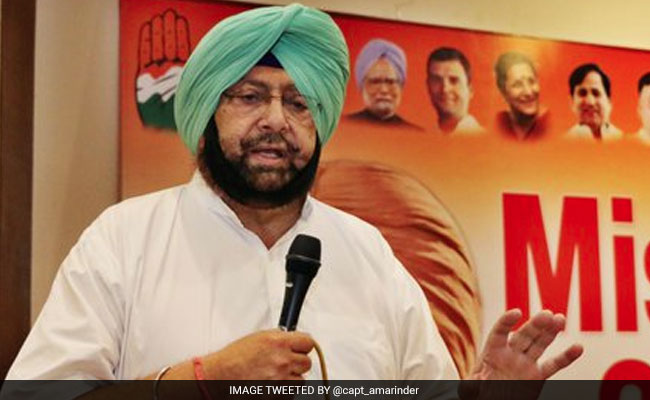 Chandigarh:
Punjab Chief Minister Amarinder Singh has urged the Centre to seek access for Sikh pilgrims to the Kartarpur Sahib shrine in Pakistan, an issue which his minister Navjot Sidhu said figured briefly during his visit to Islamabad.
He urged External Affairs Minister Sushma Swaraj to take up the matter with her Pakistan counterpart so that devotees can visit the historic gurdwara during the 550th birth anniversary of Guru Nanak Dev, a Punjab government statement said today.
In a letter to the Union minister, the chief minister has asked her to make a personal effort on the issue, saying it has been a longstanding demand of the Sikh community.
He suggested that a Dera Baba Nanak-Kartarpur Sahib corridor across the international border can be opened for the duration of the celebrations.
Kartarpur Sahib in Pakistan is located across the river Ravi, about four kilometres from the Dera Baba Nanak shrine in Punjab's Gurdaspur district.
Mr Sidhu had mentioned the corridor at his press conference yesterday, on his return from Islamabad where he had gone to attend the swearing-in ceremony of Pakistan Prime Minister Imran Khan.
Mr Sidhu defended hugging Pakistan's army chief Qamar Javed Bajwa at that ceremony, saying it was an "emotional response" after the general told him that Pakistan was making efforts to establish the corridor.
The hug had been criticised by the opposition as well as Chief Minister Amarinder Singh.
In his letter, the chief minister reminded that the 550th birth anniversary of the first Sikh Guru, who breathed his last in Kartarpur, is being observed in November 2019.
"The Government of Punjab has been requesting Government of India time and again for taking up the matter with the Government of Pakistan for a corridor from the international border to Kartarpur," he wrote.
He said the then prime minister Manmohan Singh too had given assurances on the corridor during his visits to Punjab.