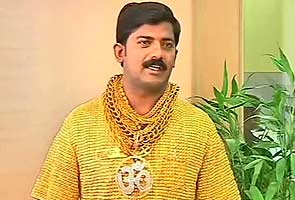 Pune:
Datta Phuge has a new shirt. It's made of gold. The 32-year-old politician wants a ticket to contest Lok Sabha elections next year, and reckons that the 3.5 kg, Rs 1.25 crore shirt will help get him easy attention.
The trick has worked so far. Mr Phuge, who belongs to Sharad Pawar's Nationalist Congress Party, has grabbed prime time space on many Marathi television channels. To ensure that the glitter and novelty do not fade, he has added a gold belt and also dons gold chains and bracelets when he makes an appearance on TV. Total cost, Rs 7 crore.
Mr Phuge is not alone. In Maharashtra, known to be home to some of the wealthiest politicians across parties, large hoardings with leaders sporting much gold is a common sight; even in regions like Aurangabad, Jalna and Beed, where poor, debt-ridden farmers struggle with acute water scarcity.
Ramesh Wanjale of the Maharashtra Navnirman Sena has the dubious distinction of having set the gold trend. He began to wear heavy gold chains and bracelets when he got a ticket from Raj Thackeray's party to contest the last Assembly elections. He won by a huge margin and a gold rush began among the younger politicians fighting to get noticed.
Another NCP man, Samrat Moze, is one of them. He wears gold ornaments worth over Rs 2 crore and lovingly poses on large hoardings next to party leaders like Sharad Pawar and Ajit Pawar. Mr Moze says he is not following a fad; his passion for gold, he says, is rooted deep in his childhood. "Half my jewellery is from the time of my ancestors. I have just redesigned it," he says.
As they clamour for attention, the NCP's golden young politicians are unlikely to face any competition from the Congress, which partners Sharad Pawar's party in ruling Maharashtra. At the Jaipur conclave held recently, Congress president Sonia Gandhi called for austerity and warned against an ostentatious display of wealth.