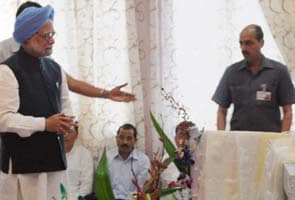 Tawang/Itanagar:
The body of former Arunachal Pradesh chief minister Dorjee Khandu was today flown to Tawang after Prime Minister Manmohan Singh, Congress President Sonia Gandhi, Union Home Minister P Chidambaram and others paid their last respects at Itanagar.
The body will remain at Dorjee's residence here till the state funeral on May 11 at Gyangkhar village with pujas to be performed daily till then by Lamas in accordance with Monpa Buddhist traditions, extra assistant commissioner D K Chutia told PTI.
Earlier at Itanagar, the Prime Minister, Mrs Gandhi and Mr Chidambaram drove straight to the Nitin Vihar residence of Khandu after landing at the Raj Bhavan helipad in three Indian Air Force (IAF) helicopters to pay their last respects.
Mrs Gandhi placed a 'khada' (white scarf) and stood for a few moments in silence before the body which was in a glass casket on a raised platform.
Industrialist and MP Naveen Jindal, who accompanied the VVIPs, also paid his respects.
Mrs Gandhi and Mr Chidambaram spent a few minutes with the family and conveyed their deep sense of shock to Khandu's second wife Rinchin Drema and eldest son Pema Khandu. They left Khandu's residence after 20 minutes. After their departure, the body was flown to Tawang by a helicopter.
The Arunachal Pradesh government has declared a seven-day state mourning since yesterday.
The Assam government has also declared a three-day state mourning.
After Khandu's body reached Tawang, it turned into a ghost town with streets deserted and markets, offices and institutions closed.
Khandu's body was found from the crash site at Luguthang in Tawang district on May 4, five days after his B3 single-engine, four-seater helicopter disappeared after being last sighted at the Sela Pass.
The others killed in the crash were pilots Captain J S Babbar and Captain T S Mamik, Khandu's security officer Yeshi Choddak and Yeshi Lhamu, sister of Tawant MLA Tsewang Dhondup.
The last rites of Choddak and Lhamu were held here in the evening according to Monpa customs, officials said.
The bodies of the two pilots - Captain J S Babbar and Captain T S Mamik - were flown to Guwahati yesterday, they said.
The bodies of the pilots and the security officer were mutilated beyond recognition, they added.