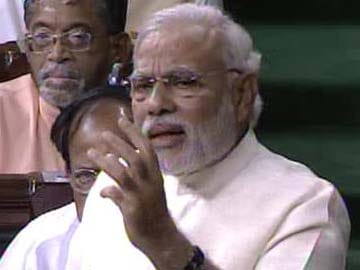 New Delhi:
Prime Minister
Narendra Modi
told parliament today that his government will be guided by a "rurban" vision - providing urban amenities and infrastructure to rural areas while preserving the "soul" and ethos of villages. (
Watch
)
The PM made his comments in a lengthy and well-received speech as part of a debate on the roadmap for his government that was revealed to law-makers earlier this week by President Pranab Mukherjee in a speech to both houses. (
Am New to Parliament, Forgive Mistakes When I am Speaking, Says PM Modi
)
Stressing that empowered villages have the ability to serve as the engine of development, he said, "We can provide modern amenities in the villages. We can ensure 24-hour power supply and quality education. If we cannot build new schools and colleges, we can take recourse to long-distance education with the help of satellites. No one will leave the villages if we can improve the quality of life there." (
Let's Change 'Scam India' Image to 'Skilled India' Says PM Modi
)
He invoked Mahatma Gandhi, socialist leader Ram Manohar Lohia and Bharatiya Jan Sangh ideologue Pandit Deendayal Upadhyaya to assert the importance of reaching out to "the last man in the queue." (
Rate PM Modi's speech here
)
"Government for whom? For the educated, a few select people? The government is for the poor. We should live and work for the poor. People will not forgive us if we do not work for the poor," he said, declaring that it is parliament's collective responsibility to ensure "no Indian is left hungry."