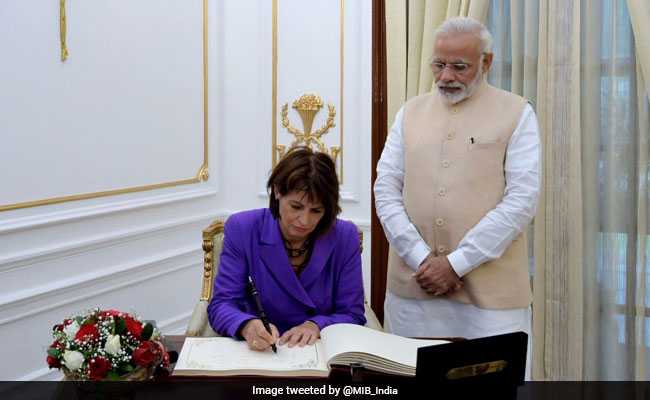 New Delhi:
India and Switzerland today discussed issues relating to transparency in financial transactions and agreed on early operationalisation of the automatic exchange of information on tax between the two countries in a bid to check black money.
The issue came up at a meeting between Prime Minister Narendra Modi and visiting Swiss President Doris Leuthard, who said the automatic information agreement would be operational by 2019 once the Swiss Parliament clears it.
Addressing the media with the visiting dignitary after delegation-level talks, PM Modi said India will continue to work with Switzerland to combat black money while the Swiss President stressed that her country has one of the strongest laws against money laundering.
"Transparency in financial transactions is an issue of concern in today's world, whether it be black money, dirty money, hawala or arms and drugs financing," PM Modi said.
"To combat this global problem, we will continue to cooperate with Switzerland," he said.
He said that with two countries signing a joint declaration for automatic exchange of tax information last year, India will get such information on an automatic basis once it is internally ratified in Switzerland.
PM Modi said foreign direct investment was an important pillar of economic cooperation between India and Switzerland. "We specially welcome Swiss investors in India.
"We agreed to continue discussions on a bilateral investment agreement. Swiss companies have a lot of expertise to partner India in its road to development."
The Prime Minister said that in a meeting of business leaders of the two countries he attended along with Leuthard, it was clear that both sides were eager to have business-to-business collaborations.
He thanked Switzerland for its support to India's entry into the Missile Technology Control Regime (MTCR).
Switzerland is the seventh largest trading partner for India with a total bilateral trade, including merchandise exports, bullion and IT services and software exports, of $18.2 billion in 2016-17.
From April 2000 to September 2016, Switzerland invested approximately $3.57 billion in India, thus becoming the 11th largest investor and accounting for about 1.2 per cent of total foreign direct investment (FDI) in India.
Stating that the proposed free trade agreement between the European Union and India also came up for discussion, PM Modi said that both sides were committed to an early conclusion of this.
He said that Indian traditional medicine can play an important role in health and wellness and thanked Switzerland for giving ayurveda its due recognition.
The Prime Minister said that after India and Switzerland launched a joint initiative called SkillSonics for vocational education and skills training, over 5,000 Indians have benefited.
He also said that both countries have agreed to work together for the full implementation of the Paris Agreement on climate change.
On her part, President Leuthard said Switzerland had one of the strongest laws against money laundering and hoped other countries would follow suit.
On automatic exchange of tax information, she said that the law was now with the Swiss Parliament for ratification and hoped that such information can be shared with India from 2019 onwards.
"This is important because Switzerland is and will be an important financial place and we have all interest to be transparent, cooperative, and a good reliable partner," she said, adding that both her country and India can go hand-in-hand on this.
The Swiss President said she discussed with PM Modi the issue of an investor protection agreement on which negotiations were underway.
Following today's talks, the two countries signed two agreements on cooperation in the railway sector.
President Leuthard arrived in Delhi yesterday on a four-day visit to India. Swiss Presidents have earlier visited India in 1998, 2003 and 2007.
PM Modi visited Switzerland in June 2016 in what was the first prime ministerial visit from India to that country in several decades.