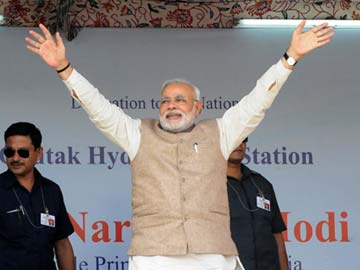 New Delhi:
Prime Minister Narendra Modi will embark on a four-day trip to Japan from August 31 to bolster bilateral ties in key areas of civil nuclear cooperation, security, defence and trade.
During his visit from August 31 to September 3, the Prime Minister will call on Emperor Akihito and hold annual summit meeting with his counterpart Shinzo Abe.
"India and Japan have a Strategic and Global Partnership. The visit of Prime Minister to Japan will further strengthen the bonds of friendship between India and Japan," the External Affairs Ministry said announcing his visit.
In a statement, the Japanese government in Tokyo said it sincerely welcomes the visit of the Indian Prime Minister, which will further strengthen the friendly relations between the two countries.
Prime Minister Abe will also host a dinner for PM Modi.
Mr Modi was scheduled to visit Japan in July but the trip was postponed in view of the Budget session of Parliament.
External Affairs Minister Sushma Swaraj and her Japanese counterpart Fumio Kishida had met earlier this week in Myanmar's capital Nay Pyi Taw on the sidelines of the East Asia Summit to prepare the groundwork for a "very very substantive outcome" from Mr Modi's visit.
In the meeting, Ms Swaraj had conveyed to Kishida that India was "very keen" on bringing the negotiations on the civil nuclear deal to its logical conclusion as soon as possible.
An agreement on civilian nuclear energy would open up the Indian market to Japanese players. While Japan has backed the Indo-US nuclear deal and the exemptions given to India from international technology sanctions, successive governments in Tokyo have found the going tough in garnering political support for it in the face of stiff opposition from the non-proliferation lobby there.
Negotiations for the civil nuclear cooperation agreement had slowed down after Japan was struck by Fukushima nuclear disaster in March, 2011.
Notwithstanding this, ties between India and Japan are on the upswing.
Mr Abe had visited India this year as chief guest at the 65th Republic Day celebrations. He had held a "comprehensive" summit with then Prime Minister Manmohan Singh.
Dr Singh had visited Japan in May last year, during which both sides had agreed to further enhance cooperation in diverse fields, particularly in trade and investment.
Emperor Akihito and Empress Michiko had paid a six-day visit to India from November 30 last year, 53 years after their trip to India as Crown Prince and Crown Princess.
In 2012-13, Japan-India bilateral trade reached US$ 18.61 billion, marginally higher than US$ 18.43 billion in the previous year.
India's primary exports to Japan have been petroleum products, iron ore, gems and jewelry, marine products, oil meals, ferrous alloys and chemicals.
India's primary imports from Japan are machinery, transport equipment, iron and steel, electronic goods, organic chemicals, machine tools, etc.
Japanese companies have made an investment of US$ 12.66 billion in India between April 2000 and June 2012.
This accounted for 7 per cent of total FDI inflow into India and made Japan the fourth largest investor in India.
Japan will be Mr Modi's third bilateral visit as PM after Bhutan and Nepal. He had also visited Brazil last month for the multilateral BRICS summit.