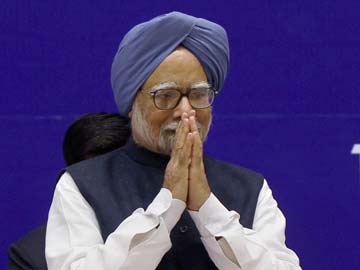 New Delhi:
Prime Minister Manmohan Singh will today leave for Myanmar, which is likely to be his last foreign visit as PM. Dr Singh will head to Myanmar's capital Nay Pyi Taw for the Bay of Bengal Initiative for Multi-Sectoral Technical and Economic Cooperation (BIMSTEC) Summit on Tuesday.
At the summit, the Prime Minister is expected to make a strong pitch for giving a fillip to India's Look East policy and explore ways to enhance connectivity, transport, trade, tourism and other linkages to all the northeastern states.
He will also use his two-day visit to renew contacts with leaders of the seven-nation group.
BIMSTEC is an expression of India's Look East Policy of the 1990s, coinciding with Thailand's Look West Policy. The seven members - India, Bangladesh, Sri Lanka, Thailand, Myanmar, Bhutan and Nepal - bring together over 20 per cent of the world population, which is about 1.5 billion, and a GDP of over US $2.5 trillion.
"One cannot underestimate the potential of BIMSTEC in bringing the fruits of these cross connectivity linkages to the northeastern states," Foreign Secretary Sujatha Singh said ahead of the visit.
"It is in our interest to make sure that our northeast does not fall behind, that it develops as well in a manner that is commensurate to its potential so that when the connectivity happens and the roads and everything else gets connected, we are able to develop in parallel if not faster and exploit the potential," she said.
With some sticky issues still to be resolved, it may take some time for the grouping to wrap up a free trade pact.
"FTA negotiations are processes that take time. The BIMSTEC negotiation is particularly complex because it already encompasses countries which have FTA under the SAFTA process, and then you have other countries that belong to ASEAN. Taking all this into account, we have to arrive at an outcome that is optimal for India as well as for them. So, this is going to take some time," she said.
A Framework Agreement for BIMSTEC Free Trade Area was signed in Phuket, Thailand in February, 2004, which commits the parties to negotiate FTAs in goods, services and investments.
An agreement on Trade in Goods and other provisions relating to rules of origin, operational certification procedures and pact on Customs cooperation was finalised in June, 2009. India has exchanged its tariff preference schedules with member countries.
Leaders at the upcoming meeting are expected to ink pacts on setting up of BIMSTEC Centre on Weather and Climate in India and Cultural Industries Observatory in Bhutan besides establishment of the permanent secretariat in Dhaka for which India has pledged contribution of 32 per cent of annual expenditure incurred there.
"Our stakes in BIMSTEC are significant and will grow further as the grouping matures," the Foreign Secretary stressed.
The summit will be preceded by ministerial meeting which will be attended by External Affairs Minister Salman Khurshid and at the senior official level by the Foreign Secretary.
During the visit, the Prime Minister will have bilateral meetings with Sri Lankan President Mahindra Rajapaksa, Bangladesh Prime Minister Sheikh Hasina and other leaders.
His talks with Rajapaksa takes place three months after he had skipped a visit to the island nation to attend the Commonwealth Heads of Government Meeting (CHOGM) due to pressure from Tamil parties and within government.
Sri Lanka has rejected a call by the UN for an independent international probe into allegations of war crimes.
Colombo has come under increasing international pressure to probe allegations of excessive civilian deaths during the final battle that ended in May 2009. A crucial UN Human Rights Council resolution on Sri Lanka is coming up for vote in Geneva this month.
Last Monday, the UN had called for an independent international probe into allegations of war crimes in Sri Lanka during the final battle with the LTTE, prompting an angry reaction from Colombo which rejected the demand and slammed it as "unwarranted interference".
Singh's meeting with Hasina will comes in the backdrop of delay in signing the long-pending agreements on Teesta river water sharing treaty and India's ratification of land boundary agreement with that country.
This will also be Singh's first meeting with Hasina after her party Awami League coasted to a landslide victory in the January 5 parliamentary election, bagging 231 seats in the face of a boycott by BNP-led 18-party opposition alliance.
The talks are expected to touch on the agreement on Teesta river treaty which was put on hold after West Bengal Chief Minister Mamata Banerjee had expressed reservation over the quantum of water to be given to Bangladesh and she had opted out of Singh's entourage to Dhaka in September, 2011.
Singh, who is travelling to Myanmar after a gap of nearly two years, the last being a bilateral visit in 2012, will also be holding talks with the leadership in that country.
The Summit is also expected to discuss steps to bolster cooperation in counter-terrorism. India has led negotiations and finalised the BIMSTEC Convention on Mutual Legal Assistance in Criminal Matters.
India also wishes to see BIMSTEC promote economic and energy cooperation, encourage cultural links and strengthen security contacts.