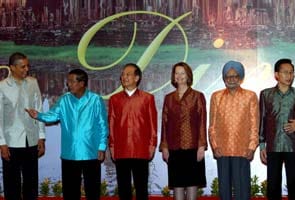 Phnom Penh:
Prime Minister Manmohan Singh on Tuesday held bilateral talks with Japanese Prime Minister Yoshihiko Noda and Sultan Hassanal Bolkiah of Brunei.
In his bilateral talks ahead of the East Asian Summit, Manmohan Singh and Mr Noda discussed their bilateral ties and regional issues, an official said. This is the 60th year of Japan-India friendship and cooperation.
Mr Noda and Manmohan Singh were to meet in Tokyo on November 18 for their annual bilateral meet, which was cancelled following domestic developments in Japan. Prime Minister Noda last week announced dissolution of Parliament and new elections have been called on December 16.
However, Japan and India inked two agreements last week - on joint production of rare earth minerals and a social security agreement.
The Prime Minister and the Sultan of Brunei discussed possibilities of expanding energy cooperation, said an official.
In a photo-op on Monday night, a smiling Mr Singh posed along with US President Obama, South Korean President Lee Myung-Bak, Chinese Premier Wen Jiabao, Australia's Julia Gillard and Cambodian Prime Minister Hun Sen.
All the leaders were attired in Cambodian traditional silk shirts, with Manmohan Singh wearing one of light orange hue. He is flanked by Australia's Gillard and South Korea's Lee.
The photo-op was ahead of a grand gala dinner on Monday night.
The East Asian leaders are holding a summit here on Tuesday, and are expected to announce launch of negotiations for the Regional Comprehensive Economic Partnership agreement.