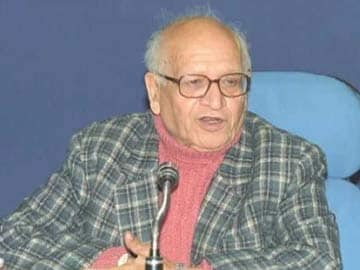 New Delhi:
Prime Minister Narendra Modi today expressed grief over the death of noted historian Bipan Chandra and extended his condolences to the deceased's family, a statement from the Prime Minister's Office said today.
Bipin Chandra, 86, died at his Gurgaon residence after prolonged illness.
A Padma Bhushan awardee, he had donned multiple roles including that of chairperson of the Centre for Historical Studies, Jawaharlal Nehru University, Member of the University Grants Commission (UGC) and the Chairman of the National Book Trust (NBT).
Considered a specialist in economic and political history of India, Mr Chandra had authored several books including 'The Rise and Growth of Economic Nationalism', 'In the Name of Democracy: The JP Movement and the Emergency', 'Nationalism and Colonialism in Modern India' and 'The Making of Modern India: From Marx to Gandhi', among others.