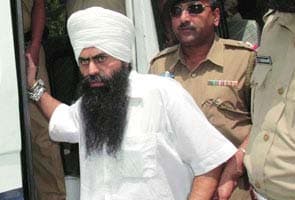 New Delhi:
Press Council of India chairman Justice Markandey Katju has written to President Pranab Mukherjee seeking pardon for Punjab militant Devender Pal Singh Bhullar, who has been awarded death sentence in connection with the 1993 Delhi bomb blast case.
The Supreme Court yesterday ruled that Bhullar will be executed for killing nine people with a car bomb in 2009 in Delhi.
In his letter, Justice Katju also said that Bhullar has been in detention for over 18 years, since his arrival in India in January 1995, and has suffered prolonged mental agony and trauma for this long period.
Justice Katju also said that the Supreme Court, in 2002, had rejected Bhullar's appeal against his death sentence by a 2-1 majority, not by a unanimous decision and added that the senior-most judge on the bench Justice M B Shah had acquitted Bhullar.
Justice Katju said that Bhullar had been having some chronic psychiatric problem and sought pardon for him.
Bhullar had appealed against his hanging because he said the President of India had taken eight years to reject his petition for mercy. The delay was grounds for commuting his sentence to life imprisonment, his lawyers had argued.
The judges disagreed and said, "It is paradoxical that the people who do not show any mercy or compassion for others plead for mercy."
Yesterday's judgment will impact 16 other prisoners on death row who have pleaded in different courts that their appeals for clemency were pending with the President for years before they were rejected.
The verdict is politically sensitive for Punjab, where many continue to sympathise with former Khalistan separatists and militants including Bhullar and Balwant Singh Rajoana, who has been convicted for the assassination of former chief minister Beant Singh.
Last year, the Centre had stayed Rajoana's hanging, following a mercy petition filed by Sikh body, Shiromani Gurdwara Parbandhak Committee (SGPC) that has been actively backed by the Punjab government and other political parties in the state.