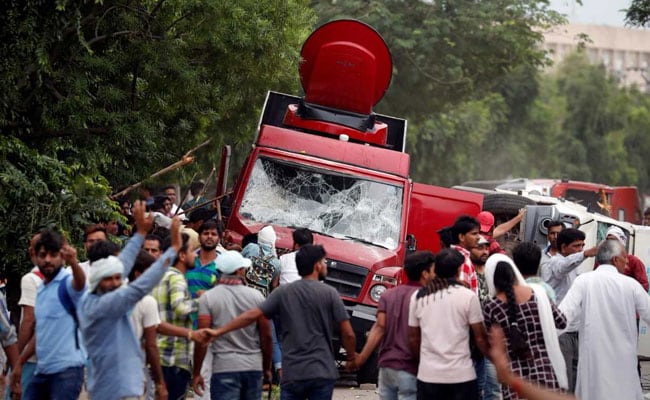 New Delhi:
Condemning the violence against journalists in Panchkula, the Press Club of India on Friday asked the Haryana state government to ensure the safety of journalists and compensate for their losses.
"The Press Club of India strongly condemns the violence against mediapersons in Panchkula by the followers of Dera Sacha Sauda chief Baba Ram Rahim who was convicted in a rape case by a court," Press Club President Vinay Kumar and Secretary General Gautam Lahiri said in a statement.
They said that it is of "utmost serious concern" that Dera supporters went on a rampage, set on fire a number of OB vans of television news networks and also targeted camerapersons and reporters who were out in the field discharging their duties of reporting
"We demand that strict action should be taken against the miscreants and the state government should take urgent steps for safety and security of journalists and also compensate the television news networks for the losses suffered by them," they said.
Spiritual guru Gurmeet Ram Rahim Singh was convicted of raping two women followers in a case dating back to 2002.
Thirty people are dead and 250 injured, Haryana Chief Minister Manohar Lal Khattar said, in the violence that quickly spread to other cities. Ram Rahim will be sentenced on Monday and was flown out of Panchkula in a government helicopter to a makeshift jail in Rohtak.
In tweets, Prime Minister Narendra Modi condemned the violence, saying it was "deeply distressing" and added the situation was being closely monitored.
With inputs from IANS