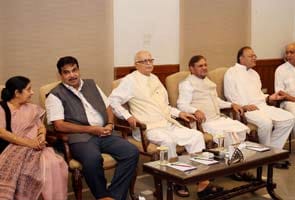 New Delhi:
The crucial meeting of the BJP-led National Democratic Alliance (NDA) to decide on their candidate for the July 19 presidential polls ended without any consensus today. The two-hour meeting at BJP leader LK Advani's house was attended by BJP leaders Sushma Swaraj and Jaswant Singh, JD(U) leader Sharad Yadav and Janata Party leader Subramanian Swamy.
Addressing the media after the meeting, Mr Yadav said, "At the meeting today, all the constituent parties presented their views. It has been decided that more deliberations are needed on the issue, and all the NDA chief ministers and people from outside will be consulted. We will have another meeting and take a decision. It is necessary to have debates and discussions on this, so Advani ji will speak to everyone on this."
He also said that there was no discussion on the vice presidential candidate.
Key NDA constituent Shiv Sena skipped the meeting. Party sources say the Sena is unhappy over the delay in announcing name of NDA candidate. Sources also said that the Sena is keen on a contest and wants a strong candidate. They added that Shiv Sena supremo Bal Thackeray will later convey the party's decision.
When asked, Shiv Sena spokesperson Rahul Narvekar said, "'Don't read much into Sena's absence from the meeting, the internal talks are on. The NDA is a democratic front, and there is time so we will take time to decide."
There have been hectic consultations between NDA parties over deciding whether to support UPA-backed
Pranab Mukherjee
or field its own candidate. While the BJP core group met at party president Nitin Gadkari's residence last night, the Akali Dal and the Janata Dal (United) held a meeting on Saturday morning.
Sources say a section of the BJP is in favour of a consensus on Pranab Mukherjee, particularly since
APJ Abdul Kalam
, seen as a rival candidate, is unwilling to run against the Finance Minister. The JD(U), a key constituent of the NDA, is also not keen on a contest as the UPA have the numbers but a section of BJP wants the contest. And it is not averse to backing
PA Sangma
. And if a contest happens, BJP may seek Mamata Banerjee's support for Mr Sangma.
With an eye on the 2014 Lok Sabha polls, the BJP will have to also bear in mind that AIADMK chief Jayalalithaa - who the BJP assiduously tried to woo a few months ago - has extended her support to Mr Sangma. The former Speaker and NCP leader has also received the support of Odisha Chief Minister and BJD leader Naveen Patnaik; Mr Sangma has still not bowed out of the race despite his party leadership's stern warning.
Today, after the meeting ended, Mr Sangma said that he will appeal to all political parties to support his candidature. "The NDA meeting has been inconclusive, so I will wait for a decision. I am a candidate from the tribal forum of India, not from any party. And I am contacting all political parties for support in that capacity. I have spoken to Mamata Banerjee for support since Mr Kalam is no longer in the race," said Mr Sangma. (
Watch
)
Mr Sangma reiterated that he is very much in the race for President.
However, Mamata's party, the Trinamool Congress says that Ms Banerjee has asked Mr Sangma to take back his candidature. "Mamata spoke with Mr Sangma and asked him to take back his candidature in favour of Mr Kalam. We are now waiting for the official reaction from APJ Abdul Kalam, and we are waiting for him to accept our backing and say he is ready to stand for President," said Trinamool Congress MP Kunal Ghosh.
Also maintaining a studied silence so far is former President Dr Kalam, who Ms Banerjee is still rooting for, with her party even claiming that he may announce his candidature for the polls soon.
Throwing another spanner in the works today was the RSS' Mohan Bhagwat. He appears to be backing APJ Abdul Kalam.
"Maharaj ji just gave his view regarding Abdul Kalam, that it would be good if he were to become President. This is an opinion of India's common man. Everyone else is stating their choice, now Abdul Kalam is not someone with a corrupt nature. He has values and he is good," said Mr Bhagwat.
However, with majority votes now behind Mr Mukherjee, the big question is whether the NDA can put up a united front against him.