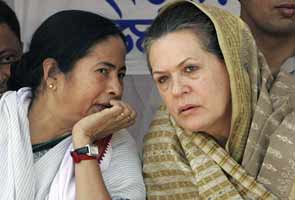 New Delhi:
The big political battle - who will be the next President of India - is amping up. Later this evening, the Election Commission will announce the schedule for the election.
Political parties are moving at top speed to finalise their strategy. Mamata Banerjee has left for Delhi to meet UPA chairperson Sonia Gandhi. The West Bengal Chief Minister denied that her support will depend largely on whether the Centre agrees to waive for three years the Rs 22,000 crore West Bengal owes as interest on loans.
Ms Banerjee's meeting with Mrs Gandhi could decide whether the latter picks Finance Minister Pranab Mukherjee as the UPA's candidate for President. The Chief Minister is unlikely to block Mr Mukherjee's nomination - voters in her home state would be displeased about a Bengal leader being kept out of Rashtrapati Bhawan by their own. But she is likely to leverage the Presidential election to push more aggressively for a financial bailout.
The Finance Minister, believed by many to be the front-runner among those vying to be the next President, has cancelled a visit to Afghanistan on Thursday, June 14. The official reason is that Mr Mukherjee wants to focus on an economy in the doldrums, but the move has added fuel to reports that the ruling UPA is likely to announce its candidate for the presidential election by Friday, June 15.
Mr Yadav, Sharad Pawar and the DMK, all key allies of the Congress in the UPA coalition, have allegedly pledged - directly or indirectly, in Mr Pawar's case - to back Mr Mukherjee. So the only Congress ally who has yet to come on board is Ms Banerjee.
On the opposition front, the BJP's Jaswant Singh met Samajwadi Party chief Mulayam Singh Yadav today, giving rise to speculation that Mr Singh is throwing his hat in the ring for Vice-President. Sections of the BJP are believed to favour Mr Singh's candidacy and there is some talk of pushing for a quid pro quo - the UPA gets in its candidate as President and the Opposition could get their person in as Vice-President. As an ally who supports the UPA from outside, Mr Yadav is seen by some as a possible broker for that deal.
Ms Banerjee said today that she will meet Mr Yadav during her trip to Delhi. As the heads of regional parties who scored huge in the last elections in their states, they will have a huge say in who becomes President. The election places at par the votes of all MPs with those of all elected members of state legislatures - so regional parties count for a lot.