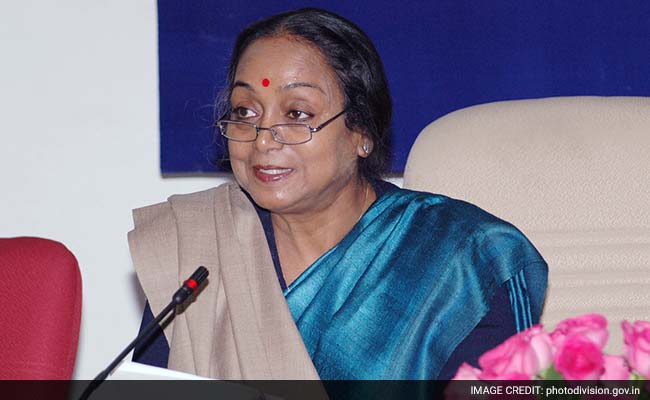 New Delhi:
The Opposition has pitched Congress's Meira Kumar against former Bihar Governor Ram Nath Kovind, forcing an election to choose the next President of India. The election will be held on July 17. Ms Kumar, from Bihar, is the daughter of Jagjivan Ram, the freedom fighter, Dalit leader and former deputy Prime Minister. The 72-year-old is a veteran politician. She had been a minister of the UPA government and later, was chosen unopposed as the Speaker of the 15th Lok Sabha. This evening, after her nomination, Ms Kumar said, "The collegium should decide the President in best interest of country, on principles and ideologies".
Who Is Meira Kumar: 5 Facts About Opposition's Candidate For Presidential Election 2017
In 2009, Meira Kumar became the consensus candidate of then ruling UPA and the Opposition NDA for the post of Lok Sabha Speaker.

She was the first woman and Dalit to head the Lok Sabha.

Meira Kumar had handled the Social Justice and the Water Resources departments in the UPA1 and UPA 2 governments.

Ms Kumar is a five-time member of the Lok Sabha, From 2004 to 2014, she represented Bihar's Sasaram, the constituency her father had nurtured.

A student of English literature, Ms Kumar had got a degree in law and then joined the Indian Foreign Service in 1973.

The soft-spoken diplomat started her political career and contested her first election in 1985, a year before her father's death.

In 1985, she was elected to the Lok Sabha from Bijnor in Uttar Pradesh, defeating top Dalit leaders Mayawati and Ram Vilas Paswan.

Though Jagjivan Ram had rebelled against Indira Gandhi, her son Rajiv Gandhi had insisted that Meira Kumar join the Congress.

She had quit the Congress for two years from 2000, citing differences with the party leadership.

As a diplomat, she has served in the embassies in Spain, the UK and Mauritius. She also served as a member of the India-Mauritius Joint Commission.