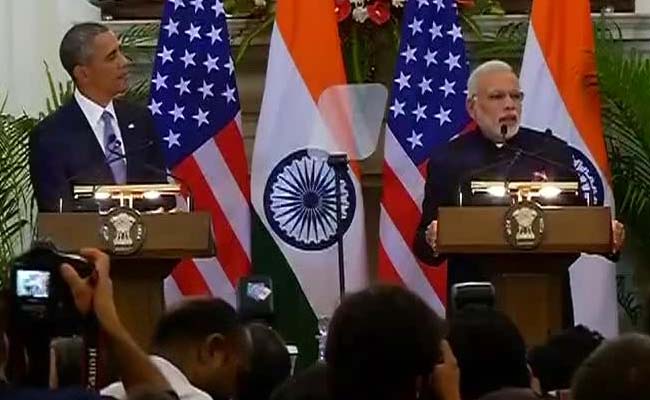 New Delhi:
United States President Barack Obama and Prime Minister Narendra Modi held a joint press conference after the delegation level talks at the Hyderabad House in Delhi. The two leaders also took a stroll in the Hyderabad House gardens for a 'one-on-one' discussion. Topics of discussion at the Hyderabad House meeting included the nuclear deal, economic ties, defence ties, and climate change.
Here are the highlights of their interaction with the media:PM Modi's Address:
It is a great pleasure to welcome President Obama and the First Lady to India.
President, we are honoured that you accepted our invitation to be Chief guest for our Republic Day.
It is special because on this day, we celebrate values shared by the world's two largest democracies.

We need to convert a good start into lasting progress.
Pleased that 6 years after we signed our bilateral agreement, we are moving towards commercial cooperation.
Renewed our defence framework agreement, strengthened cooperation on maritime security.
Terrorism remains a principal global threat.
We agreed that we need a comprehensive global strategy to combat it.

Every country must fulfill its commitment to eliminate terrorism.
We agreed that we need a comprehensive global strategy to combat it.
We expressed hope for a successful Paris conference on climate change this year.
President Obama and I had excellent discussions on global and regional issues.
We discussed how to work closely to help Afghanistan through its transition.
It is important to have noble friends.
India and US must have regular summits at greater frequency and established hotlines between me and Barack, and the NSAs.
President Obama's Address:
Aap sab ko mera pyar bhara namaskar.
Honoured to be first President to attend the celebration and visit India twice.

I want to express my profound gratitude to the people of India for incredible hospitality shown to Michelle and me.
Thank you for the 'chai pe charcha' (Discussion over tea). We need more of those in the White House.
Prime Minister, your election and your strong commitment to Indo-Us relationship gives us a chance to further energise this.

Last year at the Maddison Square garden PM Modi was greeted like a Bollywood star.
We agreed that our trade and economic partnership must focus on improving daily lives of people.
From 100 billion dollars, we want to trade more. Appreciate the reforms Prime Minister Modi wants to take to make it easier to do business in India.
Took important steps today to support clean energy and climate change.

Support India's ambitious role for solar energy, launching new projects to improve air quality in Indian cities.
We support a reformed UN Security Council that includes India as a permanent member.
We have also agreed to a new vision for the Asia-Pacific region.
Thank the Prime Minister for India's strong counter-terrorism cooperation.
Look forward to tomorrow's ceremonies which I'm told are spectacular.
Look forward to speaking directly to the Indian people on the radio.
We have no interest in seeing Russia weakened. We have a profound interest in promoting a principle which is - large countries don't bully smaller countries.
Deepening ties with India will remain a top foreign policy priority for our administration.
Answering Questions:
PM Modi on US-China Agreement and pressures on India: The agreement concluded by US and China doesn't put pressure on us. India is an independent country. There is no pressure from any other country. But climate change, global warming in themselves are huge pressure points. Anyone who is concerned about future generations must feel responsible and this pressure should be on every country, government and individual.
PM Modi on his friendship with President Obama, and what they spoke about today: I'm fairly new in this area but relations between countries depends less on full stops and commas and more on the chemistry between them. Barack and I have forged a friendship. There is openness when we talk. This chemistry has brought Barak closer to me but also brought the people of India and America closer. As far as what we spoke about, usey parde main rehne dein. (let that be under wraps.)

President Obama on common values and PM Modi: Part of the reason we are natural partners is because we share values... Prime Minister Modi caused great excitement in the US when he visited last year.... Compared to how much sleep each of us is getting. Turns out Prime Minister Modi is getting even less sleep than me. That is perhaps because he is new. After you have done it for 6 years, you can get an extra hour.