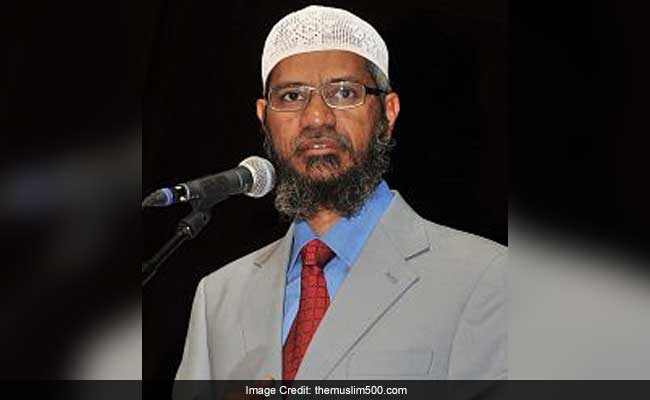 Highlights
Zakir Naik welcomed Interpol communication, said he was "relieved"
The Islamic preacher fled India last year after Bangaldesh terror attack
Zakir Naik's IRF has also been outlawed under India's anti-terror law
MUMBAI:
In a setback to Indian efforts to get
controversial televangelist Zakir Naik,
Interpol has cancelled New Delhi's
request for a red-corner notice against him
that could have restricted his international travel. Interpol also told police agencies in different countries to remove information relating to the preacher from its database that it, or India, may have sent them.
Zakir Naik, 52, promptly welcomed the Interpol communication. "Am relieved but would be more relieved if my own Indian government and Indian agencies gave me justice and also cleared me for all the charges," the televangelist who has been on the run said in a video message.
But it isn't a lost case for Indian security agencies.
Interpol's official communication indicated the main reason for accepting Zakir Naik's demand to cancel the red request was linked to India jumping the gun and making a "premature" request.
The Interpol's panel that decides on these notices underlined that the purpose of a red notice is to facilitate a country to seek the extradition of an accused charged for an offence, not a suspect merely under investigation.
But the police hadn't filed formal charges against him. This, the Interpol noted, was the basic requirement for seeking someone's extradition according to the Indian government's own rules.
"The commission finds that, at this stage of the proceedings, the issuance of a red notice for the applicant's arrest with a view to his extradition is premature," the Interpol's commission for the control of Interpol files said in its October decision.
The National Investigation Agency that is coordinating cases against
Zakir Naik had attempted to plug this loophole the same month
and hurriedly filed a chargesheet against the preacher in a Mumbai court in October. But it was too late by then.
The Islamic preacher fled India in July last year after terrorists in neighbouring Bangladesh claimed that they were inspired by his speeches. That revelation prompted security agencies in India to take a hard look at his speeches and other activities. By November, Zakir Naik's
Islamic Research Foundation (IRF) was also outlawed
under India's anti-terror law to "safeguard national security".