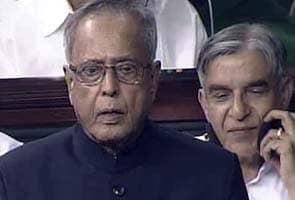 New Delhi:
Finance Minister Pranab Mukherjee lost his temper in parliament today, forcing an adjournment of the house.
Parliamentary members of the BJP were protesting in the Lok Sabha today over the fact that farmers don't have jute bags to package their wheat in Madhya Pradesh. As they protested, Mr Mukherjee snapped at them.
Then, there were protests over Home Minister P Chidambaram. Arch rival Subramanian Swamy and a newspaper have both alleged that as Finance Minister in 2006, Mr Chidambaram sanctioned the sale of telecom Aircel to a company named Maxis only after his son invested in Aircel and was able to benefit from the deal with Maxis. The government has denied the allegations.
The issue was raised by BJP leader Yashwant Sinha. Amid cries of 'shame, shame' by the opposition members, Mr Sinha said, "Prima facie what happened was a big scam and government should not hush it up." The BJP demanded a statement from Mr Mukherjee who is the Leader of the House.