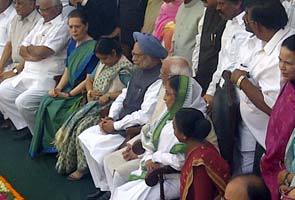 New Delhi:
When nearly 700 members of Parliament gathered for a group photo this morning, Finance Minister Pranab Mukherjee, who is the Leader of the House in the Lok Sabha, was missing.
Mr Mukherjee is reportedly upset because his office was not reminded this morning of the photo op, organised as part of the commemorations of the 60th anniversary of the Indian Parliament. The Prime Minister, Sonia Gandhi, Rahul Gandhi and senior opposition leaders like LK Advani and Sushma Swaraj were present. So was President Pratibha Patil. Congress spokesperson Renuka Chowdhury said, "Please don't read too much into it; some miscommunication in his office."
The photo-op was controversial for another reason. Dr V Maitrheyan of the AIADMK asked why the front-row seats are reserved for certain parties.
An MP used to photo-shoots - Bollywood star Rekha- was missing. Yesterday, on her first day as a Rajya Sabha member, she attended Parliament for 19 minutes.