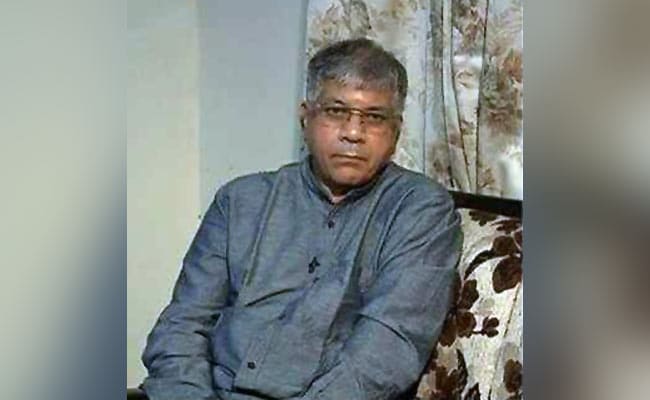 Mumbai:
Scheduled castes leader Prakash Ambedkar, who has announced an electoral tie-up with the All India Majlis-e-Ittehad-ul Muslimeen (AIMIM), met Maharashtra Congress leaders on Thursday to discuss a possible alliance.

A Congress source, however, said the party is in a quandary as it wants alliance with Mr Ambedkar but not with the AIMIM.

Mr Ambedkar, who heads Bharipa Bahujan Mahasangh, met Congress leaders at the official residence of Leader of Opposition in the Assembly Radhakrishna Vikhe Patil.

Former state Congress chief Manikrao Thakare was also present at the meeting, a Congress source said.

Mr Ambedkar told Mr Vikhe Patil and Mr Thakare that he is keen on alliance with both the Congress and AIMIM, said the source.

"Congress does not consider AIMIM as a like-minded party. It has communal image, which helps the BJP. Vikhe Patil and (state Congress chief) Ashok Chavan will discuss Ambedkar's proposal with the central leadership," the source said.

Earlier in the day, Ambedkar told reporters here that he wants alliance with the Congress, but has reservations about the NCP, its ally.

"I have joined hands with the AIMIM and now kept the doors open for a tie-up with Congress. But I am not comfortable with the NCP, as its Lok Sabha member from Satara talks in favour of Sambhaji Bhide," he said.

NCP's Satara lawmaker Udayanraje Bhosale has been vocal about his support to Bhide, a pro-Hindutva leader who is facing a police case for allegedly inciting violence at Koregaon Bhima near Pune in January this year.

Mr Ambedkar also claimed that though NCP chief Sharad Pawar is secular, "his party is not".

A Congress leader said on the condition of anonymity that like-minded parties need to project solidarity to take on the BJP in the state in the next year's Assembly and Lok Sabha polls.

"In a multi-party polity like in Maharashtra, coalitions have become a situational compulsion since none of the parties have capable candidates for all constituencies. Congress and NCP are the main parties in Opposition and they have to accommodate smaller outfits," the leader said.

Congress and NCP, which have declared that they will fight the polls together, have approached farmer leader Raju Shetti, Kapil Patil of the Loktantrik Janata Dal and the CPI and CPM for alliance, he said.