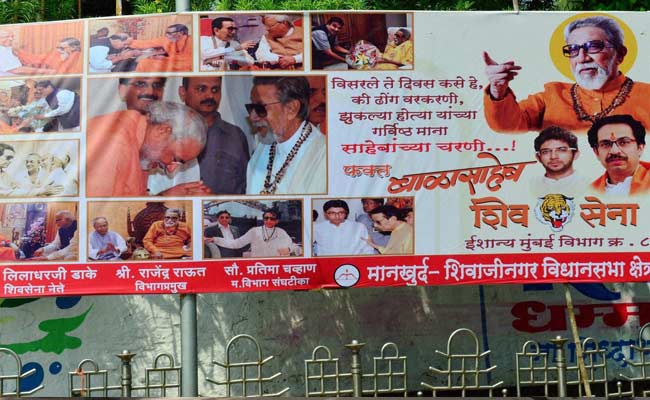 Mumbai:
The uneasy alliance between the BJP and the Shiv Sena came under strain again today after a number of hoardings - chiefly showing Prime Minister Narendra Modi bowing before the late Sena patriarch Bal Thackeray - appeared overnight outside the Sena's headquarters in Mumbai's Dadar.
Though the hoardings were removed after the Shiv Sena distanced itself from the act, it maintained that it did carry a message for the BJP leadership.
"If these senior leaders wish to prosper and grow even more, then this poster sends that message," said senior Sena leader Manohar Joshi.
One of them carried an old photograph that showed PM Modi, when he was the Chief Minister of Gujarat, bowing reverentially before the Shiv Sena founder.
Its caption read: "(Have you) forgotten the days when your (now) proud necks bowed on the feet of late Balasaheb?"
Other hoardings carried a collage of pictures depicting other BJP leaders either bowing before the Sena patriarch or greeting him warmly. The list included former prime minister Atal Bihari Vajpayee, BJP veteran LK Advani and Union home minister Rajnath Singh.
The police brought down the hoardings, which had appeared on the eve of the Shiv Sena's annual Dusshera rally -- a show of strength ahead of the first anniversary of the coalition government.
Over the last few weeks, tension between the ruling allies had increased after a belligerent Sena forced the cancellation of Pakistani ghazal singer, Ghulam Ali's concerts in Mumbai and Pune, despite the BJP's disapproval. The party had even said it would not change its 20-year-old stand to accommodate the BJP's stance.
The Shiv Sena cadres also targeted the talks between the cricket boards of India and Pakistan and their activists smeared ink on the face of veteran journalist and former LK Advani aide, Sudheendra Kulkarni at a book release function.
On Tuesday, Union minister Arun Jaitley sounded a veiled warning, saying people should engage in "debate, not vandalism". Regarding the attack on cicket board, he said, "There can be two legitimate views but they have to be expressed within democratic limits. It can't be done by barging into the BCCI office."